Office of the President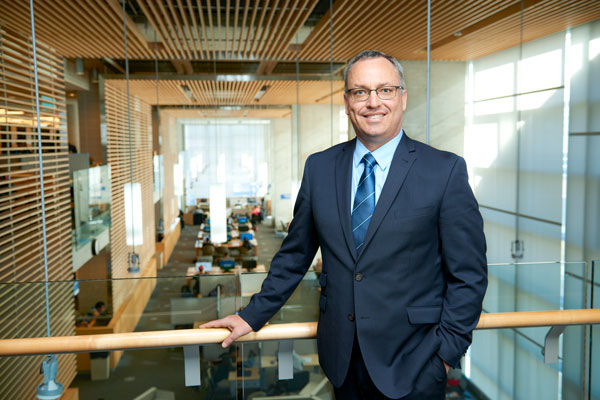 Renowned for his organizational and human behaviour expertise across business and industry, Dr. Steven Murphy joined Ontario Tech University as its fourth President and Vice-Chancellor in 2018. He holds a Ph.D. in Management (Organizational Behaviour) from Carleton University. He also earned a Master in Management Studies (with Distinction) in the Management of Technology, and a Bachelor of Commerce (Honours) in Human Resource Management, also at Carleton.

Growing up in a family-run business and learning first-hand the value of working with people inspired Dr. Murphy's educational trajectory. His dedication to equity, diversity and inclusiveness underscores every facet of how he lives his life. Beyond the lens of race and gender, he believes firmly in the diversity of thoughts and ideas.

He envisions that Ontario Tech University will become a real bastion for alternative ways of thinking about why diversity in all forms is important. He believes experiential and co-operative learning opportunities are fundamental training for successful careers. He encourages students to embrace a collaborative approach that champions diversity and strives to make society a better place.

Prior to his arrival at Ontario Tech, Dr. Murphy served as Dean of the Ted Rogers School of Management at Ryerson University, transforming the school's brand, establishing novel interdisciplinary programs and fostering innovative and entrepreneurial co-op opportunities for students that grew the university's program exponentially. Previously, he spent more than a decade in progressive academic and leadership roles at Carleton University's Sprott School of Business, as Associate Dean, Research and External. During his tenure, he also served as Associate Dean, Research and Graduate Studies, Associate Professor, and Assistant Professor.

He holds an esteemed record of academic achievement awards for his work examining the role of emotions in strategic decision-making, leadership and other organizational and human behaviours, as well as an insightful approach to teaching.

Internationally, Dr. Murphy was named a Visiting Academic Fellow of the Business School at the University of Western Australia in 2010, and he has also taught MBA courses in China and the Middle East. He has published more than 110 papers, book chapters and technical reports. Dr. Murphy recently received his Institute of Corporate Directors Designation from the Directors Education Program at the University of Toronto, Rotman School of Management.