Connect with us...
Virtually
Virtual Open House
Tuesday, October 6, 2020
Saturday. November 21, 2020
Saturday, March 27, 2021
Chat with faculty members, admissions officers, the awards and financial aid team, Student Life, current students, alumni and more.
Virtual tour
Take our guided 360° tour of our award-winning campus, labs, student spaces and classrooms. Alternatively, choose your own adventure and explore our entire campus with a self-guided virtual tour.
Webinars
Webinars cover everything you need to know about life at Ontario Tech. Hear from specific faculty, what your next steps are after you've received an offer, what your first year will look like, financing your education and many more services we have to offer to help you transition to our university.
Mobile app
Download Ontario Tech mobile to stay up-to-date on our news, important dates, athletics info and more.
Social media
Want to stay connected with what's happening at Ontario Tech on the daily? Follow along for student takeovers, highlights of our faculty and spaces, events, and all things Ridgebacks.
/otfuturestudent
/otfuturestudent
/@otfuture
/ridgebackpack02
On campus
Open House
Saturday, May 15, 2021
Find your place at Ontario Tech and take your first steps in experiencing our campus community. Attend information sessions with faculty, tour our campus locations and residence rooms, chat with current students, and start your Ridgeback spirit early by picking up some swag.
Transfer Information Night
Wednesday, February 17, 2021*
Thinking about one of our college-to-university transfer programs or transferring to Ontario Tech? Join us for Transfer Information Night to have all your questions answered by our faculty, staff and students.
*Will run virtual if required.
Campus tours
Join one of our tour guides on campus and check out our academic buildings, student services, residences, athletic facilities and many other areas on campus.
January drop-in tours
Friday, January 8, 2021
Saturday, January 9, 2021
March Break tours
March 15 to 19, 2021
Campus maps
North Oshawa campus location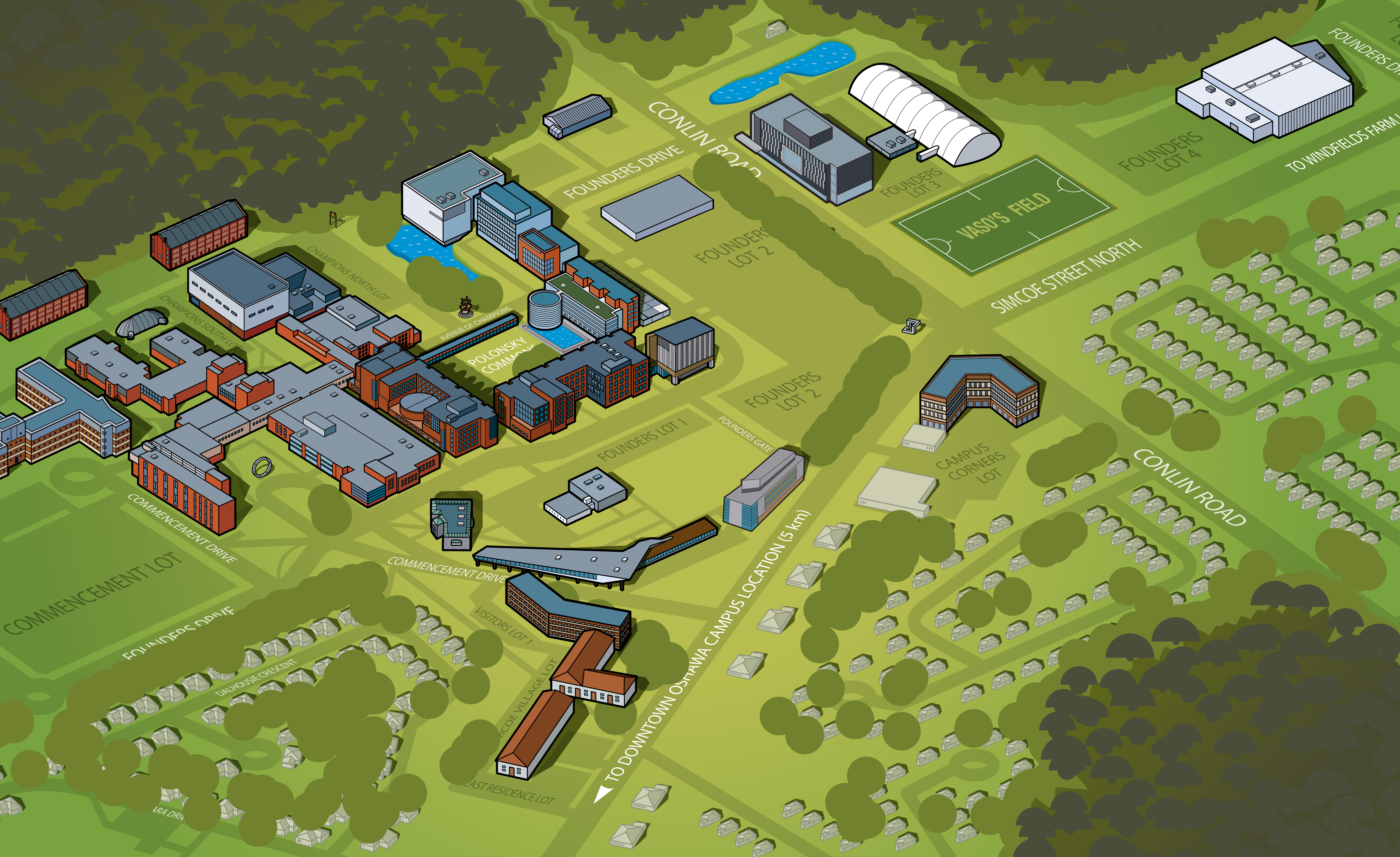 Downtown Oshawa campus location