Programs
Automotive Engineering
The only accredited program of its kind in Canada, our Automotive Engineering program prepares engineers to meet the need for advancements in the automotive sector by accelerating research and the development of alternative technologies, such as electric and fuel-cell driven vehicles.
Learn more:
Management option:
Comprehensive Engineering This option is intended for those who are undecided on which Engineering program they want to take. Prior to Year 2, you're required to apply to change to one of our Engineering programs. Changing programs is competitive; admission is not guaranteed to your program of choice. Should you not meet the requirements, you may be placed in another Engineering program.
Electrical Engineering
Our Electrical Engineering program focuses on the design and development of electrical and computer technologies, and their component parts. The integration of electrical components into complex systems is also studied.
You can choose the Smart Grid specialization or follow the comprehensive program.
Learn more:
Smart Grid specialization:
The Smart Grid specialization leverages communications and networking technology to move our ageing power grid into the 21st century. You'll study all aspects of the smart grid including networking and security, smart metering, electric energy storage systems, power quality, and transportation electrification.
Management option:
Manufacturing Engineering
The only program of its kind in Canada, our Manufacturing Engineering program is about the design and improvement of high‑tech systems for the production and manufacturing of products. This includes the development and application of advanced technologies such as robotics, automation, new materials and intelligent controls.
Learn more:
Management option:
Our programs are fully accredited by the Canadian Engineering Accreditation Board (CEAB).
Your career possibilities
Autonomous and Automated Driving Systems Engineer
Cloud Solutions Architect
Electric Vehicle Research Engineer
Engineering Consultant/Project Manager
Environmental Approvals Planner
Food and Beverage Process Engineer
Medical Device Development Engineer
Mobility Solutions Engineer
Nuclear Engineer
Remotely Operated Vehicles Technician
Safety Assessment Engineer
Smart Home Devices Engineer
Waste Management and Decommissioning Engineer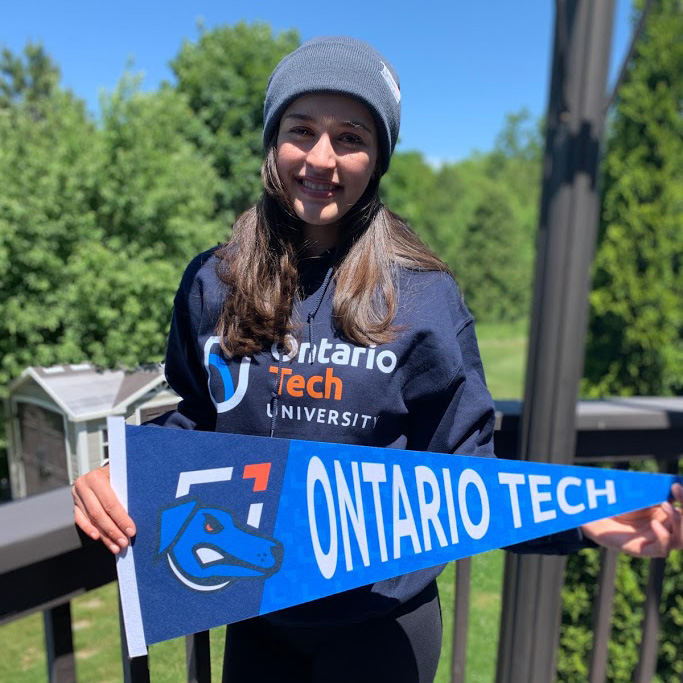 When deciding where to study engineering, there were many factors I considered; Ontario Tech was the stand-out school for each one. The industry connections stood out—Hydro One and Ontario Power Generation to name a couple. You learn from upper-year students during your placements and also know that these reputable companies trust the university.

Ontario Tech goes above and beyond to support their female engineering students; from the lifelong friendships fostered through the Women in Engineering Society, to scholarships for females.

Isabel Smith

Electrical Engineering, class of 2024
Industry-ready learning
Hands-on learning and the use of latest technologies in our lab spaces.

Design and test the functionality of engineering products, using various tools and software in our internationally renowned ACE Climatic Wind Tunnel.

Programs created in consultation with key industry reps in the field of energy and radiation that meet the many challenges, and growing employment opportunities in these fields.

Gain knowledge of different energy sources, scenarios and risks for building a more sustainable future.
Use our high-tech, fully-equipped Jeffrey Boyce Engineering Innovation and Design Studio—create models, test prototypes and collaborate with classmates.

Integrate and innovate in our Sigma Lab—a world-class innovation space with digital tools like virtual reality for energy applications.
Management option: Complete an extra year of courses and you'll gain a solid foundation in business, accounting, finance, operations, marketing and human resources.
Top 10 things students love about Engineering
Take a tour of our labs
Automotive & Manufacturing
Women for STEM Scholarship recipients
Aisha Sarwar, Women for STEM Scholarship recipient
Mechanical Engineering, class of 2023
Maria Accardi, Women for STEM Scholarship recipient
Nuclear Engineering, class of 2024
Clubs and societies
American Society of Mechanical Engineers
Design League
Engineering Students' Society
Engineers Without Borders
EngiQueers
Institute of Electrical and Electronic Engineers - Student Branch
North American Youth Generation in Nuclear
Ontario Tech Racing
Robot in 3 Days
Women in Engineering Society
First-Year Engineering Success Program
ontariotechu.ca/engineeringsuccess
This program is designed to assist you with your transition to university-level engineering courses and any challenges you may have with adjusting to life at university.
Women in Engineering
Build lifelong friendships through the peer-mentorship program, and be encouraged to reach your potential with our uplifting and supportive female engineering community.
Launch a career
In Nuclear at Ontario Tech
Ontario Tech University is a key source of young talent for the nuclear industry. We offer Canada's only undergraduate Nuclear Engineering program and rate third in North America for Nuclear Engineering graduates. We also offer unique programs in Health Physics and Radiation Science.
We create
Real-world solutions to real-world challenges
Engineering and Applied Science alumnus Hamayal Choudhry created a 3D-printed robotic prosthetic hand for amputees. With a camera built into the palm, the hand uses Microsoft Azure computer vision and machine-learning technology to identify objects, and calculate the most appropriate grip for them. The more the hand is used, the more accurate it becomes. Hamayal took home the grand prize at Microsoft's Imagine Cup, a global startup competition the company held in 2018.