Information Technology - Technology Management
| | |
| --- | --- |
| Degree | Bachelor of Information Technology (Honours) |
| Faculty | Faculty of Business and Information Technology |
| Location | North Oshawa campus location |
| Start dates | September |
| Length | Four years |
| Program load | Full-time |
| OUAC code | DTM |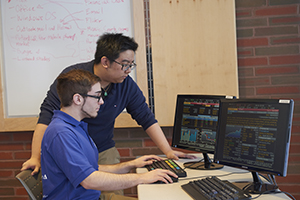 The Bachelor of Information Technology (Honours) in Technology Management will develop student skills in data analytics, information systems, change management, and data security. Students completing this program will qualify for the Certified Business Technology Manager (CBTM) designation from Canadian Coalition for Tomorrow's ICT (Information Communication Technology) Skills (CCICT), once they obtain sufficient work experience.
General information
The Bachelor of Information Technology's Technology Management major offers a focus on information technology with a complementary set of business courses designed to meet the needs of today's technology-enabled economy. The program will develop your skills in data analytics, information systems, change management, and data security.
This major is consistent with the university's mandate and the Faculty of Business and Information Technology's priority to be market-relevant. The focus on informatics integrates with research being conducted in the Informatics Research Institute and in associated incubators. It is a direct response to market demand for professionals with domain-specific knowledge and ICT-related skills. According to Statistics Canada (2008), the labour market for professionals with business informatics skills was an IT occupation that continued to thrive through the recession due to industry need. 
---
Additional information
Admission requirements
Current Ontario secondary school students must complete the Ontario Secondary School Diploma (OSSD) with six 4U or 4M credits including English (ENG4U) with a minimum average of 60 per cent and one of Advanced Functions (MHF4U), Calculus and Vectors (MCV4U) or Mathematics of Data Management (MDM4U) with a minimum average of 60 per cent or Computer Science (ICS4U) with a minimum average of 70 per cent.
Note: Admission is competitive. The specific average or standing required for admission varies from year to year. Students are selected by taking into consideration a wide range of criteria including school marks, distribution of subjects taken, and performance in subjects relevant to the academic program. Possession of the minimum requirements does not guarantee acceptance. Preference will be given to applicants with the best qualifications.
---
| | |
| --- | --- |
| Last year's cut-off | 70 per cent |
| Expected cut-off | Mid-70s |
---
How to apply
The application process and important dates/deadlines are outlined on our admissions website:
• Ontario secondary school applicants
• Ontario secondary school graduates 
• Canadian out-of-province high school applicants 
• international applicants
• mature applicants (over 21 and never attended post-secondary)
• transfer applicants
• General Arts and Science (GAS) applicants
• home-schooled applicants 
Program curriculum
Sample courses
Programming
Intro to Computer Security
Project Management
Intro to Cloud Services
Intro to Operations Management
Systems Analysis Design
Network Systems
Risk Management
Human Computer Interaction & User Evaluation
A full program map is available in the Undergraduate Academic Calendar. Courses are subject to change without notice.
Experiential learning
To ensure student success, our university's experiential learning approach aims at honing technical and business skills, as well as instilling employability skills such as accountability, adaptability, attitude, confidence, motivation, presentation, stress management, teamwork and time management. Students will secure the hands-on learning opportunities that help them transition to employment.
Career opportunities
Graduates can expect to pursue a career as a:
business-analytics consultant 
industry IT specialist
information systems analyst
interactive media developer
technical writer