Health Sciences
| | |
| --- | --- |
| Degree | Bachelor of Health Sciences (Honours) |
| Faculty | Faculty of Health Sciences |
| Location | North Oshawa campus location |
| Start dates | September |
| Length | Four years |
| Program load | Full-time |
| OUAC code | DHS |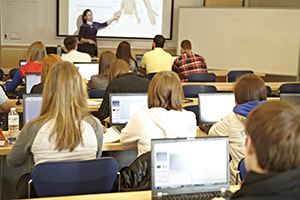 The increasing complexity of health sciences and the health-care industry has placed a growing importance on the skills required of health-care professionals. You will acquire the foundations for excellence in clinical practice along with the lifelong learning, research, teamwork and leadership skills essential for a successful career in the health field.
General information
This program has an interdisciplinary focus, weaving together physiological, sociological and epidemiological perspectives on major health issues. 
Two specializations are offered: 
Human Health Science
You will learn the fundamental areas of science related to human health and disease, including anatomy and physiology, pathophysiology, microbiology and neurophysiology. 
Public Health
Public health considers health from the perspective of communities, from a neighbourhood to national and international levels. You will learn about the health status of populations, inequities in health, determinants of health and illness, strategies for health promotion, disease and injury prevention, health protection, and factors that influence the delivery an use of health services. 
---
Additional information
Admission requirements
Current Ontario secondary school students must complete the Ontario Secondary School Diploma (OSSD) with six 4U or 4M credits including English (ENG4U) with a minimum grade of 60 per cent, Biology (SBI4U) and one of Advanced Functions (MHF4U), Calculus and Vectors (MCV4U) or Mathematics of Data Management (MDM4U). It is recommended that students interested in the Human Health Science specialization take Chemistry (SCH4U).                    
Note: Admission is competitive. The specific average or standing required for admission varies from year to year. Students are selected by taking into consideration a wide range of criteria including school marks, distribution of subjects taken, and performance in subjects relevant to the academic program. Possession of the minimum requirements does not guarantee acceptance. Preference will be given to applicants with the best qualifications.
---
| | |
| --- | --- |
| Last year's cut-off | 70 per cent |
| Expected cut-off | Mid-70s |
---
How to apply
The application process and important dates/deadlines are outlined on our admissions website:
• Ontario secondary school applicants
• Ontario secondary school graduates
• Canadian out-of-province high school applicants
• International applicants
• Mature applicants (over 21 and never attended post-secondary)
• Transfer applicants
• General Arts and Science (GAS) applicants
• Home-schooled applicants
Program curriculum
Courses include:
Altered Physiology
Exploring Mental Health and Developmental Difficulties
Global Health (Public Health specialization)
Human Genetics and Society (Human Health Science specialization)
Introduction to Movement Neuroscience
Nutrition and Health
Prevention and Rehabilitation of Complex Chronic Conditions
A full program map is available in the Undergraduate Academic Calendar. Courses are subject to change without notice.
Career opportunities
Human Health Science
Business and industry (e.g. regulatory affairs, pharmaceuticals, biotechnology, research, quality assurance)
Government agencies (quality assurance, biosafety, regulatory affairs)
Graduate studies in Health Science or professional programs (e.g. physiotherapy, occupational therapy, medicine or chiropractic)
Health-care laboratory administration
Laboratory research assistant
Public Health
Community health co-ordinator 
Environmental health officer
Graduate studies in Health Science or professional programs (e.g. physiotherapy, occupational therapy, medicine or chiropractic) 
Injury prevention specialist 
Occupational health and safety co-ordinator 
Public and non-profit sector administration and/or policy development