Kinesiology Advanced Entry - Fitness and Health Promotion
| | |
| --- | --- |
| Degree | Bachelor of Health Sciences (Honours) |
| Faculty | Faculty of Health Sciences |
| Location | North Oshawa campus location |
| Start dates | September |
| Length | Six semesters (full-time) |
| Program load | Full-time |
| OUAC code | DKD |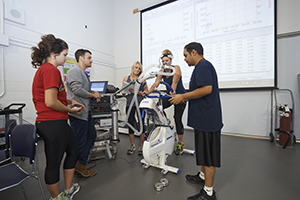 Admission requirements: An Ontario college diploma (or equivalent) in Fitness and Health Promotion with a minimum B average. 
General information
This program is directed toward understanding the role and safe application of exercise for health maintenance, improvement and rehabilitation. You will be prepared to become a kinesiology practitioner who can safely prescribe individualized exercise programs to improve or maintain the health, functional capacity and overall well-being of a range of healthy and clinical populations.
Kinesiology is now a regulated health profession in Ontario. You will gain the skills and knowledge needed to function as a health professional and to write the competency exam to become a registered kinesiologist. You will take courses and have hands-on learning opportunities that will prepare you to complete theory and practical examinations leading to Canadian Society for Exercise Physiology certifications (Certified Personal Trainer and Certified Exercise Physiologist).
Students will have the opportunity to specialize in Health and Wellness or to complete a generalist program.
Students have access to new, modern buildings, libraries and innovative labs including:
Kinesiology Teaching Laboratory
Motor Behaviour and Physical Activity Laboratory
---
Additional information
Kinesiology Diploma-to-Degree on the Faculty of Health Sciences website
College-to-university transfer website
Admission requirements
An Ontario college diploma in Fitness and Health Promotion with a minimum mid-70s average. It is recommended for students to have completed Biology (SBI4U) or a post-secondary equivalent.
Note: Admission is competitive. Regardless of educational background, all applicants to undergraduate programs must have specific prerequisite subject knowledge for their intended program of study. The specific average or standing required for admission will vary from year to year. Students are selected by taking into consideration a wide range of criteria, including school marks, distribution of subjects taken and performance in subjects relevant to the academic program. Preference will be given to applicants with the best qualifications.
---
Transfer credit
In recognition of your diploma, you will receive 11 courses toward your 40-course BHSc in Kinesiology degree.
---
| | |
| --- | --- |
| Last year's cut-off | 74 per cent |
| Expected cut-off | Mid-70s |
---
How to apply
The application process and important dates/deadlines are outlined on our college-to-university transfer applicant page.
Program curriculum
Sample courses: 
Altered Physiology
Clinical Biomechanics and Ergonomics (Exercise Science specialization)
Ethics in Kinesiology
Exploring Mental Health and Developmental Disabilities (Health and Wellness specialization)
Health and Exercise Psychology
Human Motor Control and Learning
Nutrition and Health
Practical Human Anatomy (Rehabilitation specialization)
The full program map is available on the Faculty of Health Sciences website. Courses are subject to change without notice.
Experiential learning
Students at the university have many different opportunities to apply their knowledge and skills in real-world settings. With more than 300 industry and community partner organizations, students have a wide variety of experiential learning opportunities available to them.
As a student in this major, you will have the opportunity to seek applied internship opportunities in your fourth year of studies.
Career opportunities
Registered kinesiologist

Certified exercise physiologist (CSEP-CEP)

Ergonomics specialist

Fitness and health promotion

Medical equipment supply and consulting

Orthotics and prosthetics (after further study)

Sports management

Strength and conditioning coach