Criminology and Justice - Advanced Entry
Degree
Bachelor of Arts (Honours)

Faculty
Faculty of Social Science and Humanities
Location
Downtown Oshawa campus location
Start dates
September (full-time)
Length
Four semesters (full-time)
Program load
Full-time
Part-time

OUAC code
DAC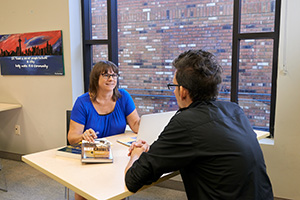 Admission requirements: An Ontario college diploma or Ontario college advanced diploma (or equivalent) in Child and Youth Care, Community and Justice Services, Customs Border Services, Police Foundations or Protection Security and Investigation.
General information
Crime is not committed in a vacuum. It occurs in a particular socio-economic and political context. Criminology examines the broader social and individual contexts that lead to criminal behaviour. It also examines how criminal justice is shaped by larger social, political and technological contexts, and how they are translated into practice in agencies such as the police, courts, corrections, the juvenile system, and various social and government service agencies. 
Our program explores and critically analyzes criminological and sociological theories of why people commit crime. It also examines how societies define crime and who is considered a criminal. 
This program approaches the study of crime from an interdisciplinary perspective, drawing on a rich tradition from criminology, sociology, philosophy, psychology and law. In addition to examining why crime is committed, you will be encouraged to think about crime, criminal justice and its administration in ways that are consistent with the principles of fairness, equality, peace, and justice. 
---
Additional information
College-to-university transfer programs website
Admission requirements
An Ontario college or Ontario college advanced diploma in one of the programs listed below with a minimum B-/70 per cent average:
Child and Youth Care
Community and Justice Services
Customs Border Services
Police Foundations
Protection, Security and Investigation
- or -
A graduate certificate in Youth Corrections and Interventions presented concurrently with an Ontario college or Ontario college advanced diploma in one of the programs listed below:
Court and Tribunal Agent
Law Clerk
Paralegal
---
Transfer credit
 In recognition of your diploma, you will receive 20 courses toward the 40 course Bachelor of Arts (Honours) degree.
---
| | |
| --- | --- |
| Last year's cut-off | 70 per cent |
| Expected cut-off | Low 70s |
---
How to apply
The application process and important dates/deadlines are outlined on our college-to-university transfer applicant page.
Program curriculum
Sample courses: 
The Canadian Legal System
Criminal Justice
Criminal Law
Deviance
Diversity and Justice
Hate Crime
Policing
Prosecution and Sentencing
Psychology
Social Control and Regulation
Social Policy
Theories of Crime
Victimology
Youth Crime
Program map is available in the Undergraduate Academic Calendar. Courses are subject to change without notice.
Experiential learning
A limited number of fourth-year students are granted an opportunity to participate in a learning experience with a community organization. The practicum is an experiential learning tool that provides students with opportunities to acquire workplace skills and knowledge, confront the relationship between theory and practice, and cultivate a sense of personal and professional development.
The Practicum course consists of 100 hours of fieldwork, several in-class seminars and a set of academic assignments.
Career opportunities
Correctional officer/case manager
Government researcher and policy analyst
Human rights advocate/community activist
Police officer
Probation/parole officer
Social services worker