Education, Consecutive program, Intermediate/Senior
Overview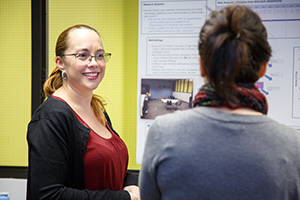 Our unique 16-month BEd program enables you to graduate four-months earlier with two intermediate/senior teachable subject areas.
This 16-month program prepares you to teach grades 7 to 12 with expertise in two of the following teachable subject areas:
Biology
Chemistry
English
General Science (any combination of biology, chemistry, environmental science and physics courses qualify for this teachable)
Health and Physical Education (kinesiology courses qualify for this teachable)
History
Mathematics
Physics
Please note that we are no longer accepting applications for the 2022/23 academic year. Applications for the 2023/24 academic year will open in September 2022.
One of my practicum placements was in a Durham high school. My teachable subjects are Physical Education and General Science, so I mainly contributed to Grade 10 science classes. My teaching responsibilities were primarily with the Environmental Science class, which I truly enjoyed. For my last placement, I am looking forward to seeing what is in store; I will likely be placed in either a Grade 7 or 8 classroom, as I believe my true passion lies with intermediate students. 

Sarah Whibbs

Bachelor of Science, Class of 2018

Bachelor of Education - Intermediate/Senior
Admissions
Admissions
Applicants will hold an undergraduate degree from a recognized university, with a minimum required average of 70 per cent (B- or 2.7 GPA) in their best 10 full-year or best 20 half-year completed courses. Preference will be given to students with four-year honours degrees. Each candidate must have received the required undergraduate degree by July 1 of the year in which they begin their Bachelor of Education program.
Applicants must have completed a minimum of five full-year courses, or 10 one-semester courses in a first teachable subject and three full courses, or six one-semester courses in a second teachable subject. A minimum of 70 per cent (B- or 2.7 GPA) average is required in each teachable subject.
A complete application includes:
Transcripts
Evidence of oral and written proficiency in English.
A clear criminal record check is a post-admission requirement for all successful applicants.
*Applicants may be required to complete a personal characteristic evaluation.
Note: Admission is competitive. The specific average or standing required for admission varies from year to year. Students are selected by taking into consideration a wide range of criteria including school marks, distribution of subjects taken, and performance in subjects relevant to the academic program. Possession of the minimum requirements does not guarantee acceptance. Preference will be given to applicants with the best qualifications.
Applicants with international documents
If you have completed a degree from an institution outside of Canada or the United States, you must have all official transcripts translated (if applicable) and evaluated by World Education Services (WES). Please request the WES ICAP – Course by Course Evaluation.
As an applicant, it is your responsibility to:

Ensure all documents required for assessment are sent directly from the issuing institution(s) to WES.
Pay for all costs associated with the WES assessment.
Ensure WES sends your completed assessment directly to the university no later than December 8.

Translation of international documents

If your documents do not include an official English translation, you must also submit an official translation to WES. The translator must be accredited by a professional association of translators in Canada. To obtain the name of an accredited translator, please visit the Association of Translators and Interpreters of Ontario website. 
| | |
| --- | --- |
| Last year's cut-off | 70 per cent |
| Expected cut-off | Mid-70s |
The application service through Ontario Universities' Application Centre (OUAC) opens mid-September of each year for Professional Program Applications to the Teacher Education Application Service (TEAS) and closes in early December of each year.
Please see our TEAS applicant page for important dates and application process.
Career opportunites
Graduates are prepared to teach provincially, nationally and internationally. The emphasis on technology-enhanced teaching and learning also provides some graduates with career opportunities in college-level teaching or in training and professional development in corporate settings.
Experiential learning
All Bachelor of Education students take part in several field experience placements, resulting in a minimum 80 days in classrooms working with teachers and students. Under the supervision of an experienced practising teacher, you will gradually acquire responsibility for teaching classes.
Did you know?
Sample courses

For program requirements, including required number of credits for completion, program maps and course descriptions, please see

the academic calendar and course catalogue of

Loading...

.

Courses are subject to change without notice.