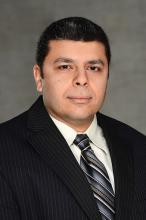 Walid Morsi Ibrahim

PhD, PEng
Professor
Department of Electrical, Computer and Software Engineering
Faculty of Engineering and Applied Science
Dr. Ibrahim focuses on Safeguarding Canada's electrical power grid operation from the threat of a natural disaster or cyberattack. His research interests include smart grid, power quality/disturbance data analytics, energy monitoring, management and automation of electric power systems.
Languages
English, French, Arabic
---
PhD - Electrical Engineering

Dalhousie University, Halifax, Nova Scotia

2009

MSc - Electrical Engineering

Suez Canal University, Egypt

2002

BSc - Electrical Engineering

Suez Canal University, Egypt

1998
Impact of Second-Generation Plug-In Battery Electric Vehicles on the Aging of Distribution Transformers Considering TOU Prices
Boston, Massachusetts
July 17, 2016
IEEE Power and Energy Society General Meeting
Smart Grid Research
Oshawa, Ontario
January 1, 2015
IEEE Research Showcase
Understanding Power Quality in Smart Grids
Toronto, Ontario
May 5, 2011
10th IEEE International Conference for Upcoming Engineers
Outstanding Master's Thesis Award
Ontario Tech University
April 1, 2017
Under the supervision of Dr. Morsi, Jessie Michael Gillis, Master of Applied Science in Electrical and Computer Engineering student received the 2017 Outstanding Master's Thesis Award for his thesis entitled: Time-Frequency Analysis Techniques for Non-Intrusive Load Monitoring.
Senior Member
Institute of Electrical and Electronics Engineers
July 1, 2016
Dr. Morsi was appointed to this role for his contributions to advancing the field.
Poster Award
9th Annual Design Exhibition, Ontario Tech University
April 1, 2015
Dr. Morsi and his students received this award for their poster entitled: Intelligent Energy Monitoring System Design for Smart Homes.
Adjunct Professor
Department of Electrical and Computer Engineering, University of Waterloo
January 1, 2013
In this role, Dr. Morsi collaborates on research projects and supervises student research.
Poster Award
6th Annual Design Exhibition, Ontario Tech University
April 1, 2012
Dr. Morsi and his students received this award for their poster entitled: Solar Generation Tracking System.
Centre of Learning and Teaching Award
Ontario Tech University
May 1, 2011
Dr. Morsi received this award for Improvement in Teaching Scores.
Best Paper Award
IEEE International Symposium on Power Electronics for Distributed Generation Systems
January 1, 2010
Dr. Morsi received this award for his paper entitled: A New Islanding Detection Approach Using Wavelet Packet Transform for Wind-based Distributed Generation.
Institute of Electrical and Electronic Engineers (IEEE)
IEEE Power Engineering Society
Professional Engineers Ontario
Ontario Society of Professional Engineers
Power Systems (ELEE 32600U)
First, various means of electric power generation-through hydroelectric, thermoelectric, geothermal, wind, solar, and nuclear sources are highlighted, and the choice of a given source-dictated by economic and environmental factors, application requirements and cost drivers is discussed. Then the course focuses on electric power systems; mainly electric power generation transmission, distribution; planning and operating inter-connected power systems; operating strategies and economic dispatch; transmission power line parameters, transformer models, symmetrical components, power system modelling, power flow on transmission lines; power system fault analysis.
Fundamentals of Smart Grid (ELEE 4115U)
This course starts by introducing the basic components making the smart grid and the drivers/benefits of implementing it. The course will focus on the role/impacts of the various smart grid components on the electric energy systems, including renewable, plug-in hybrid electric vehicles, demand side management, and greenhouse gas (GHG) emissions reductions. Topics such as smart metering, smart energy pricing and policies, grid optimization, distribution system automation and management, transmission system operation, power electronics and energy storage in smart grid and power quality will be introduced. The related standards to inter-operability and design will also be covered in this course.
Smart Grid Network and Security (ELEE 4125U)
Wired and wireless communications in smart grids; communications protocols and standards in smart grid, current and emerging communication technologies; quality and reliability of service in networking for smart grid; security threats and impacts on end-users and utility companies; types of attacks and possible defences; smart grid security, standardization, authentication, and management; user privacy issues.
Power System Operations, Analysis and Planning (ENGR 5960G)
This course covers resistance, inductance and capacitance of transmission lines; steady state transmission capacity; network compensation; voltage management; load flow simulation; transient stability simulation; system security; system planning; and symmetric operation of power systems.
Electrical Power Distribution Systems (ENGR 5975G)
This course covers the following topics in electric power distribution system engineering: Load characteristics; distribution transformer loading; feeder load; distribution system modeling; distribution feeder analysis; distribution system automation; calculation of voltage drops in lateral distribution systems; calculation of power losses in distribution systems; application of capacitors to distribution systems; distribution system voltage regulation; solar photovoltaic and wind-based distributed generation; energy storage systems for electric utility systems; the concept of smart distribution system in electric grid and its applications; and electric power quality including monitoring, detection and analysis of variations and events.