We want you to be a part of our university community and are committed to welcoming you to our campus. We offer virtual and in-person events that allow to get to know students, meet our world-class researchers, and visit some of our unique facilities. There are always opportunities to visit our campus and experience what our students, faculty, and staff do every day!
Below are some examples of ways you can experience being a member of our Ontario Tech community: 
Annual Campus Community Connect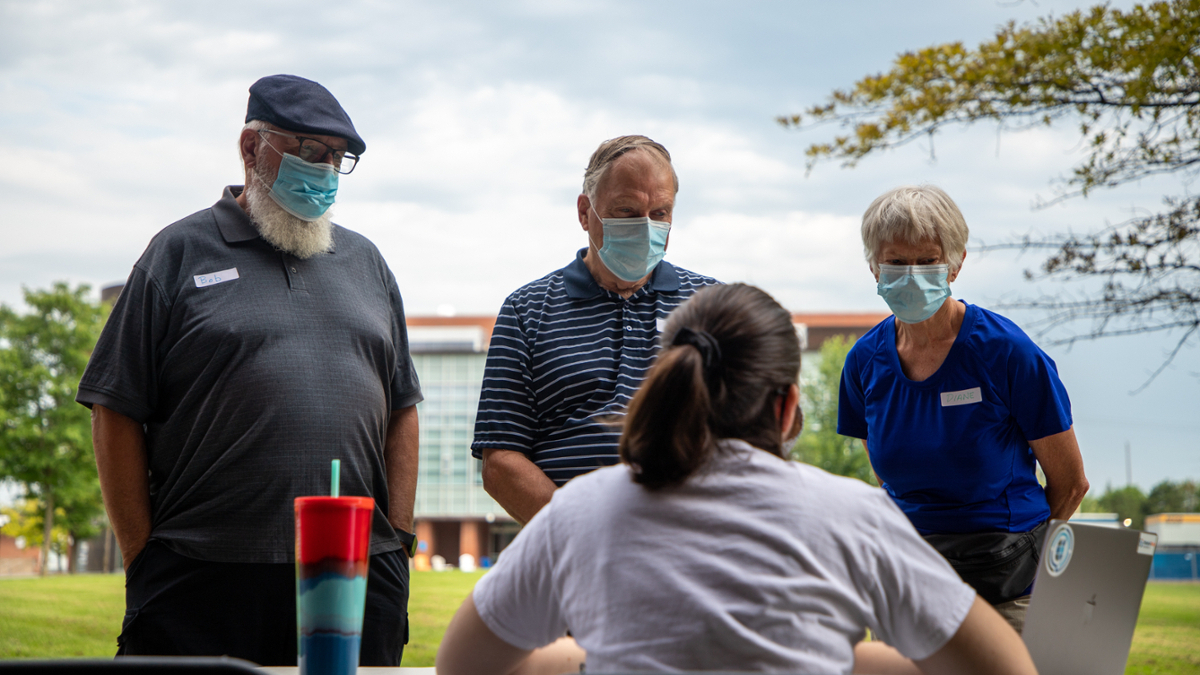 The annual Campus Community Connect Event is our way of opening the doors of our university to the local community. We invite you to join us on campus to hear from the university's founding President, Dr. Gary Polonsky, learn about our commitment to becoming an Age-Friendly University, meet our staff and students, and tour our world-class facilities such as the Campus Recreation and Wellness Centre, the ACE Climatic Wind Tunnel, the newly built Shawenjigewining Hall, and our Windfields Farm lands!
We are excited to welcome you to Ontario Tech University, and can't wait to meet you!
Date: Wednesday, August 10
Time: 10 a.m. to 2 p.m.
Time
Event
Location
10 a.m.

Welcome 
with Dr. Shilpa Dogra, Chair, Committee for an Age-Friendly University

The Creation of Ontario Tech: Little Known Facts
with Dr. Gary Polonsky, Founding President 

ERC 2056
11 a.m.

Tours of campus

Choose the facilities you'd like to visit!

ACE Climatic Wind Tunnel

Shawenjigewining Hall

Windfields Farm lands

Noon
Complimentary barbecue
Vaso's Field
This event is FREE. Registration is required. 
Experience Athletics and Become a Senior Ridgeback
Be a part of the Ridgeback family by either attending live sporting events or participating in sports on campus. We encourage you to explore the Ridgebacks varsity website to see when our student-athletes are playing, attend a sporting event and show your support!
There are many health and recreation opportunities at our campus, including the gym, indoor track, and arena. Please visit these sites for more information:
Campus Recreation Resource Library
We also have a Senior Ridgebacks committee aimed at facilitating sport and recreation opportunities on campus and in the community. If you are or know of an older adult interested in starting up a sports group, please reach out. We would be happy to provide space and students to assist!
Experience Our Facilities
ACE

ACE is the first commercial, automotive research, development and innovation centre of its kind in the world. This facility, located on Ontario Tech's north Oshawa campus location, is where industry, researchers, and students collaborate to create, test, and validate paradigm-shifting innovations, focusing on bringing them to market as rapidly as possible.

ACE has an array of testing equipment, including one of the world's largest and most sophisticated climatic wind tunnels. ACE has three additional climate chambers that enable users to conduct research and test everything from first responders to electric vehicles to heat pumps to drones in controlled conditions from -40𐩑C to +60𐩑C.

The facility offers open house opportunities each year for members of the community to visit and learn about the centre's research and testing activities. However, currently, ACE is not open to the public for group tours due to COVID-19 restrictions.

Windfields Farm lands

The Office of Campus Infrastructure and Sustainability (OCIS), located north of Ontario Tech's north Oshawa campus location on the university 's Windfields Farm lands, is committed to providing students, faculty and staff with a functional, sustainable and safe facility. Our mission is to develop and support sustainability initiatives, apply best practices during infrastructure planning, and create a sustainability culture for the university's staff, students and faculty.

The university's Windfield Farm lands is home to more than 40 bee hives, hectares of planted wildflower gardens, a vegetable farm field, and a tree nursery of over 500 native and fruit trees. Fresh produce is harvested and used to prepare meals in the campus cafeteria and donated to a local food bank. Ontario Tech Wildflower Honey is sold on campus or online (for curbside pickup). The office strives to create a sustainable campus through a variety of initiatives. Visit their website for more information.

The OCIS office and university's Windfield Farm lands are only open to the public during specific tours and events. Visit their events page for upcoming events.