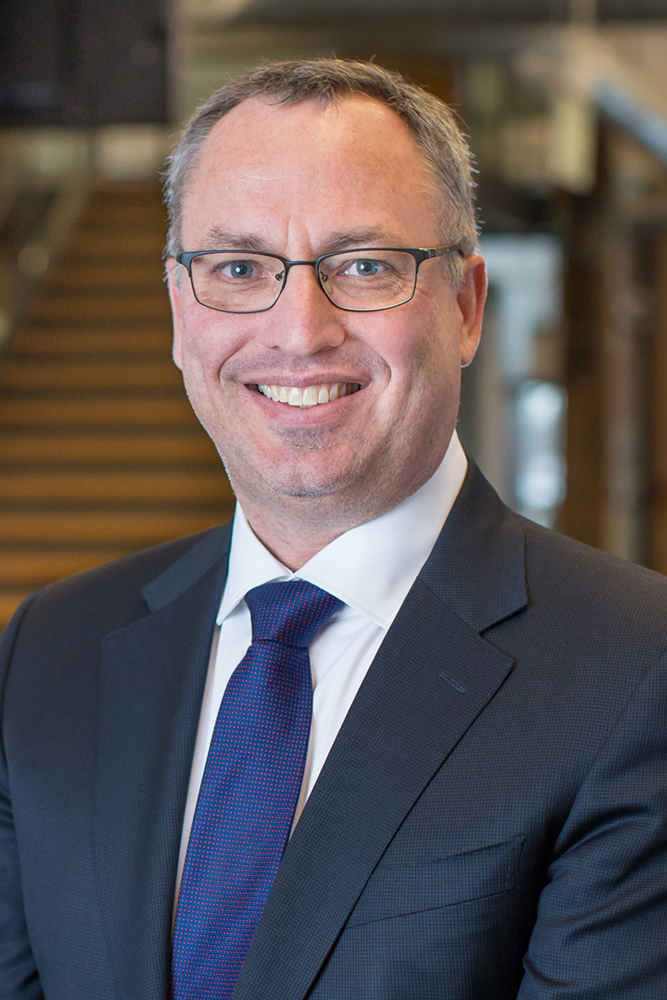 Steven Murphy

PhD
President
Dr. Steven Murphy is a distinguished organizational behaviour expert, and champion of equity, diversity and inclusiveness to lead Ontario Tech University
Languages
French
---
ICD.D - Directors Education Program

University of Toronto, Rotman School of Management

2017

PhD - Management, Organizational Behaviour

Carleton University

MMS (Distinction) - Management of Technology

Carleton University

1995

BComm (Honours) - Human Resource Management

Carleton University

1993
Reintegrative Shaming in Modern Organizations: Lessons from Medieval and Early Modern Scholars
The University of Western Australia, Perth
June 8, 2011
Emotions in the Medieval and Early Modern Worlds Conference
Shame in Self and Organisations
University of Queensland, Brisbane, Australia
November 26, 2010
5th Asia Pacific Symposium on Emotions in Worklife
Emotional Contagion in Computer Mediated Communication
HEC Montréal, Montréal, Québec
July 27, 2010
Tenth International Conference on Knowledge, Culture and Change in Organizations
On the Folly of Rewarding A, While Hoping for B: A Critical Assessment of Theory Development
Chicago, Illinois
August 7, 2009
2009 Academy of Management Annual Meeting
Design Attributions: The Role of Self-Identity, Personality and Emotion
Berlin, Germany
February 15, 2009
Third International Conference on Design Principles and Practices
Animosity, Affinity, and Purchase Intentions Among Ethnic Consumers
Published in Rediscovering the Essentiality of Marketing, Proceedings of the 2015 Academy of Marketing Science World Marketing Congress
July 14, 2015
This book contains the full proceedings of the 2015 Academy of Marketing Science World Marketing Congress held in Bari, Italy. The current worldwide business environment is leading marketing scholars and practitioners to reconsider a number of historical and current views of the marketplace and how it functions. Further, determining new marketing theories and practical methods whose effectiveness can be truly measured must be added to the list of current challenges for today and tomorrow. In such a period in marketing history, achieving and managing efficient and effective marketing actions is a necessity. Determining such actions is based on practical experience, solid theory and appropriate research methodology. The enclosed papers focus on new research ideas on vibrant topics that can help academics and practitioners gain new perspectives and insights into today's turbulent marketplace.
View more - Animosity, Affinity, and Purchase Intentions Among Ethnic Consumers
Planned and Emergent Strategy
Published in Global Supply Chain Security
Ch. 11.
November 14, 2014
Since the 1970s, there has been an ongoing debate in the literature as to the most effective means of formulating strategy. One camp has touted the merits of formal, deliberate strategic planning, while the other camp has maintained that strategy simply emerges over time as a firm takes various actions in response to environmental stimuli. Recently, researchers have recognized the more realistic view that deliberately planned strategies transform during implementation through an emergent strategy formation process. This chapter will review the literature on deliberate and emergent strategies, exploring the perspectives of the proponents and critics from each academic camp. It will then examine the two perspectives as ends of a continuum, citing a number of strategy types that exist between the end points. The concept of planned emergence, or a complementary deliberate and emergent approach, will next be discussed followed by an examination of the numerous empirical studies that have sought a link between formal strategic planning and organizational performance. Finally, a discussion of the emergent impact of chaotic systems and improvisation on deliberate strategy will be followed by perspectives on the future of strategy creation and implementation.
Place Brands and Brand-place Associations: The Role of 'Place' in International Marketing
Published in Handbook of Research in International Marketing
2nd. Ed., Ch. 5.
November 30, 2011
The field that studies the potential effects of a product's Country of Origin (CO) or Product-Country Image (PCI) on buyer behaviour is often cited as 'the' or 'one of the' most researched in international marketing (Tan and Farley, 1987; Peterson and Jolibert, 1995; Jaffe and Nebenzahl, 2006). Indeed, at the first International Marketing Theory Conference of the Center of International Business Education and Research at the University of Connecticut, in 2001, drawing from his comprehensive database of the relevant literature, one of the authors of this chapter reported 766 PCI publications during the 40 years since the inception of the field in the 1960s (Papadopoulos and Heslop, 2003). Of these, 361 were journal articles. The same database shows the number of journal articles to have gone over the 1000 mark as of this writing in 2010, or an increase of about 150 per cent over less than a decade. This suggests that research interest in this area continues unabated and, if anything, has increased dramatically now that 'place-' or 'nation-' branding, the flip-side of the PCI coin, has become popular. Since, with globalization, almost anything can be produced almost anywhere, there has been some criticism concerning the relevance of the field to contemporary markets – consumers, it is argued, may not know or care about exactly where the products they buy are made (e.g. Liefeld, 2004; Samiee et al., 2005; Usunier, 2006). We will discuss these concerns.
View more - Place Brands and Brand-place Associations: The Role of 'Place' in International Marketing
SSHRC Partnership Development Grant - Examining the Social Return on Investment in Policing
April 1, 2013
Ranked the SSHRC's top partnership grant in 2013; this three-year, collaborative research project examined the social return on investment in policing across different regions of the country. Dr. Murphy's research explored ways to strengthen strategic community partnerships with Toronto Police Service.
Chair of the Ontario Region, Canadian Federation of Business School Deans (CFBSD), and CFBSD Director
January 1, 2015
The CFBSD is the association for Deans and Directors of faculties of business and management in Canada. The association is dedicated to working with its members toward achieving excellence in business education, and its mission is to promote quality in management education and the professional development of business school administrators through various types of events, research and information services, and representation.
Director of the Toronto Board of Trade
January 1, 2016
For over 170 years, the board has been focused on Trade, Transportation and Talent. Its vision is to make Toronto one of the most competitive and sought after business regions in the world, and its mission is to be a catalyst for a vibrant globally competitive Toronto region business community.
Advisory Board in Arlington Partners International
January 1, 2017
Arlington Partners builds boards and helps Selection Committees attract, assess, select and appoint their new Chief Executive Officers and senior executive team members. It supports organizations and their leaders at transformational times in their business growth and development.
Sponsor Team Lead
Ryerson Lifeline Syria Challenge
January 1, 2015
Dr. Murphy was responsible for overseeing the resettlement of a Syrian refugee family to Toronto.
Carleton University Research Achievement Award
Carleton University
February 3, 2011
Dr. Murphy received a $15,000 Research Achievement Award for his extensive work on the role of emotions in the workplace and daily life.
Carleton University Provost and Vice-President (Academic) Award
Carleton University
January 1, 2007
Dr. Murphy received this academic achievement for the culmination of his innovative research.
Carleton University Teaching Achievement Award
Carleton University
April 11, 2007
An Assistant Professor in the Sprott School of Business for four years, Dr. Murphy received this $15,000 award for his ability to engage students in his emotions in the workplace research.
Administrative Sciences Association of Canada
Canadian Federation of Business School Deans
Toronto Board of Trade