Mr. Robert James Houle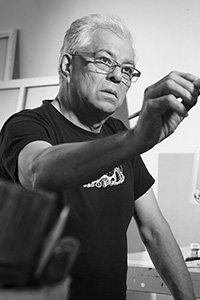 Doctor of Laws, honoris causa
Faculty of Social Science and Humanities
For his distinguished career as a Canadian artist, curator, critic and educator, the university is proud to confer upon Mr. Robert Houle the honorary degree of Doctor of Laws.
Mr. Houle is a senior contemporary Saulteaux First Nation artist, who paints predominately in the tradition of abstraction, while incorporating everyday images and text into his works. He has helped bridge the gap between contemporary First Nations artists and the broader Canadian art scene through his writing and involvement in pioneering exhibitions such as Land Spirit Power: First Nations at the National Gallery of Canada in Ottawa in 1992.
Mr. Houle has exhibited across Canada and internationally for more than 40 years. His work can be found in the collections of dozens of institutions including the Art Gallery of Ontario, the National Gallery of Canada, the Winnipeg Art Gallery, the Royal Ontario Museum, the National Museum of the American Indian in Washington, D.C., and the Museum of Contemporary Art Australia in Sydney.
Mr. Houle taught at the Ontario College of Art and Design (now OCAD University) in Toronto for more than 20 years where he was instrumental in indigenizing curriculum. Born in St. Boniface, Manitoba and a member of Sandy Bay First Nation, he holds a Bachelor of Arts degree in Art History from the University of Manitoba in Winnipeg and a Bachelor of Education degree in Art Education from McGill University in Montreal, Quebec. He also studied painting and drawing at the International Summer Academy of Fine Arts in Salzburg, Austria.
His many honours include the 2015 Governor General's Award in Visual and Media Arts, the 2001 Toronto Arts Award for the Visual Arts, membership in the Royal Canadian Academy of Arts, and an honorary doctorate from the University of Manitoba, where he is also a distinguished alumnus.