Ms. Kathryn (Kate) Lines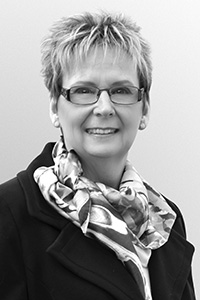 Doctor of Laws, honoris causa
Faculty of Business Information and Technology
Faculty of Science
For her career as a pioneer of women in the policing profession, her leadership in criminal profiling, her tireless efforts to promote diversity in the workplace and her capacity to drive organizational change, the university is proud to confer upon Ms. Kathryn (Kate) Lines the honorary degree of Doctor of Laws.
The native of Ennismore, Ontario joined the Ontario Provincial Police (OPP) in 1977 at a time when women were only beginning to become officers with the provincial force. Over a 33-year career with the OPP, Ms. Lines rose from patrol officer to the rank of Chief Superintendent and Investigation and Support Bureau Commander, overseeing a staff of more than 500 uniform and civilian employees.
In 1991, she was Canada's second police officer and the first female criminal profiler to graduate from the U.S. Federal Bureau of Investigation Academy's elite Criminal Investigation Analysis Fellowship Program. She was also the OPP officer in charge of researching, developing and implementing the Ontario sex offender registry, the first such registry in Canada.
In addition to consulting internationally on counterterrorism management and organized crime investigations, she was worked on many of Ontario's highest profile murder and missing persons cases. In 2015, to give a voice to the many families who have lost loved ones to crime, she authored the bestselling book Crime Seen – From Patrol Cop to Profiler.
She has received numerous provincial, national and international honours including Police Leader of the Year from the Canadian Police Leadership Foundation, the Officer Order of Merit Medal and the Ontario Provincial Police Exemplary Service Medal. In 2002, she received the Queen Elizabeth II Golden Jubilee Medal for Commitment to Professionalism, Safe Communities and a Secure Ontario.
Ms. Lines received her Bachelor of Arts degree in Sociology from Erindale College at the University of Toronto. A Life Member of the Canadian Association of Chiefs of Police, Ontario Association of Chiefs of Police, and Ontario Provincial Police Association, she has served as a consultant for the television dramas Flashpoint and Rookie Blue. She currently works as a licensed private investigator in Peterborough, Ontario, teaches at Fleming College and is a volunteer board chair for the national non-profit Victim Justice Network.