Mr. Gary Edgar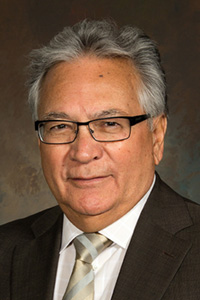 Doctor of Laws, honoris causa
We are proud to confer upon Mr. Gary Edgar the honorary degree of Doctor of Laws. He exemplifies the qualities the university strives to instill in all graduates – to challenge, innovate and connect.
He has used his leadership skills and passion to advance First Nations rights and to overcome significant challenges facing his community. It was this passion that led him to be elected as Chief of the Mississaugas of Scugog Island (1993-1997). As Chief, he negotiated hunting and fishing rights for the First Nation, established processes toward First Nations Self-Government and created local employment strategies both on and off-reserve. His efforts also helped to develop a retail storefront in downtown Port Perry, Ontario that raised the Band's profile in the surrounding community and eventually led to the creation of the only licensed charitable gaming facility in Ontario.
His diplomatic skills unified his community and paved the way to make the Great Blue Heron Charity Casino a reality. To this day, the casino provides employment for members of First Nations and non-First Nations communities, as well as financial support for the Band. He also led the creation of the casino's charitable arm – the Baagwating Community Association – which oversees the distribution of Great Blue Heron's charitable funds. The Baagwating Community Association supports numerous local charities.
For his years of service he has received numerous awards, including the 1992 Governor General's Medal for Contributions to Canada, the Queen's Diamond Jubilee Medal for community service in 2012, as well as a Lifetime Achievement award in 2012 from the First Nations Gaming Association.
His influence and tenacity have had a tremendous impact on the building of social capital between the Scugog First Nation and the Durham Region community. For his inspirational leadership, benevolence, passion and dedication to enriching the lives of so many others, it is an honour to present Mr. Edgar for the honorary degree of Doctor of Laws.