Mr. Robert J. Deluce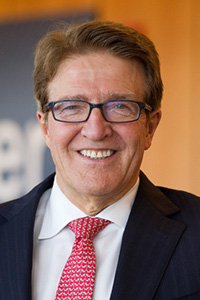 Doctor of Laws, honoris causa
We are proud to confer upon Mr. Robert Deluce the honorary degree of Doctor of Laws. He is one of Canada's most knowledgeable and respected airline owners and operators. He embodies the entrepreneurial spirit that drives many of the students and graduates at the university.
Born in Chapleau, Ontario and raised in a family with deep roots in aviation, he is a true Canadian business entrepreneur. His successful career has spanned ownership, financing, restructuring, operating and managing a number of airlines in Canada.
As the President and Chief Executive Officer of Porter Airlines, he has expanded the company from a modest operation of 20 employees and two planes flying solely between Ottawa and Toronto, to an airline of 1,400 employees and 26 aircraft serving 19 destinations. Under his leadership, Porter Airlines has revolutionized short-haul flying. Porter is an Official 4 Star Airline in the World Airline Star Rating by SKYTRAX, and rated the world's Best Small Airline by Condé Nast Traveler's Readers' Choice Awards in 2013.
He is an outstanding example of how one's creative vision, passion and persistence can carve a niche in a volatile industry, and overcome long odds to build one of the most successful companies in Canada. For his exceptional professional achievement and his entrepreneurial drive and vision, it is an honour to present Mr. Deluce for the honorary degree of Doctor of Laws.