Ms. Mary Jo Haddad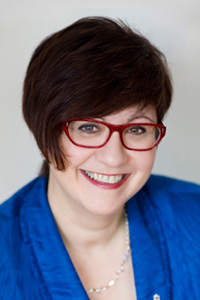 Doctor of Laws, honoris causa
We are proud to confer upon Ms. Mary Jo Haddad the honorary degree of Doctor of Laws. As a compelling health-care visionary, and a powerful champion for pediatric health, we are delighted to celebrate her extraordinary leadership within the health-care sector.
She began her career as a registered nurse, working in the neonatal intensive care unit at the Children's Hospital of Michigan in Detroit for nearly a decade. In the early 1980s, she joined The Hospital for Sick Children (SickKids) in Toronto, Ontario and quickly moved up the ranks from Unit Manager to Chief Nursing Executive, to Vice-President and Chief Operating Officer. She was appointed President and Chief Executive Officer in 2004 and retired December 31, 2013.
Under her leadership at SickKids, innovation has always been at the forefront. Emphasizing the development of future health-care leaders, her distinguished career has focused on increased collaboration, integration and sharing with other health centres in the province, across the country and around the world. She is also committed to lifelong learning and mentorship as an adjunct faculty member at the University of Toronto, and as a mentor for aspiring leaders through the Women's Executive Network and The Creative Institute for Toronto's Young Leaders.
Among her numerous awards, she received the Queen Elizabeth II Diamond Jubilee Medal in 2012, was appointed as a Member of the Order of Canada in 2010 and won the Premier's Award for Outstanding Leadership, also in 2010. She was named one of Canada's Top 100 Most Powerful Women by the Women's Executive Network in 2007 and 2008.
Her contributions and achievements serve to inspire and motivate our graduates to continue to strive for success with unwavering commitment and humanity in all that they undertake. For her innovative leadership in the advancing of pediatric health care in Ontario and beyond, it is an honour to present Ms. Haddad for the honorary degree of Doctor of Laws.