Dr. Jean Moss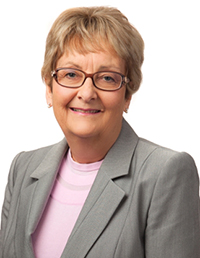 Doctor of Laws, honoris causa
Faculty of Education
Faculty of Health Sciences
For her inspirational leadership, outstanding intellectual contribution to the field of chiropractic education and research, and her unwavering commitment to improving access to health care, we are proud to confer upon Dr. Jean Moss the honorary degree of Doctor of Laws.
Described by colleagues as "the first lady of the chiropractic profession", Dr. Moss is an admired pioneer leader among the chiropractic and health-care professionals.
She was drawn to the chiropractic profession after her mother received successful treatment for a serious low-back condition. In 1965, she enrolled in the first class of the Anglo-European College of Chiropractic in Bournemouth, England during a time when chiropractic was not well known. Seeking new horizons, she moved to Canada in 1967 and continued her chiropractic education at the Canadian Memorial Chiropractic College (CMCC) in Toronto, Ontario.
After graduating in 1970, she began a private practice and also joined the CMCC faculty. For the next 20 years, she enjoyed a successful career as an educator, clinician and administrator. In 1988 she obtained her Master of Business Administration degree from York University in Toronto, Ontario. In 1991 she became CMCC's first female president and held this position until 2014. Under her leadership CMCC prospered – building historic clinical relationships with universities and hospitals, supporting the pursuit of chiropractic research, implementing a new integrative curriculum and building a new campus. 
A tenacious advocate and tireless spokesperson for the chiropractic profession, Dr. Moss is the recipient of many honours including the World Federation of Chiropractic Honour Award for outstanding service and contributions to the international growth of the profession. As CMCC President, she opened Canada's first chiropractic clinic within a teaching hospital. In 2005, under Dr. Moss' leadership, CMCC obtained degree-granting status making it the first private institution in Ontario to offer a profession-oriented health care degree. Upon stepping down as CMCC President after a 23-year tenure, she was named President Emerita, in honour of her leadership to CMCC and to the chiropractic community.