Mr. Grantley Morris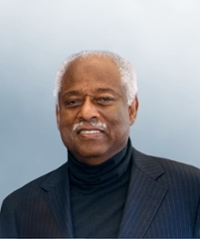 Doctor of Laws, honoris causa
Faculty of Social Science and Humanities
For his outstanding philanthropic efforts and his contribution to community development in Durham Region, we are proud to confer upon Mr. Grantley Morris the honorary degree of Doctor of Laws.
To say that Mr. Morris is grounded in community is to speak to both his professional career and to his volunteer work.
He began his working life in 1960 as Draftsman at the Barbados Ministry of Transport where he was involved in designing roads and airport infrastructure. He later joined the Natural Gas Corporation of Barbados, rising to the position of Senior Mains Assistant and Acting Distribution Superintendent. After immigrating to Canada in 1966, his knowledge and practical experience led to an 18-year career as a Senior Planner with the Ontario Government. He also earned a Bachelor of Arts degree in Urban Studies from York University and subsequently a Master of Education degree from the University of Toronto.
In 1984, his mix of professional skill and entrepreneurial zeal resulted in the creation of his firm, Grant Morris Associates Limited, which continues to provide expert advice on urban development to architects, engineers, surveyors and land owners. In 1991 Mr. Morris was invited to join the Ontario Municipal Board as a Tribunal Judge, where he ruled on matters governed by the Ontario Planning Act. He has also served as a guest lecturer in university programs focused on urban studies and survey work.
While his professional expertise is well known in many circles, he is perhaps best known in Durham Region for his commitment to serving others and giving back to the community.
Each year at what has become known as The Caribbean Event, Mr. Morris and his wife, Patricia Sammy, open their home to hundreds of supporters and members of the Barbadian-Canadian community to raise money for scholarships and financial support to students in Barbados and in Canada. Through this event, along with personal contributions, Mr. Morris has also pledged an endowment targeted at $1 million to assist students in need, many of whom study at the University of Ontario Institute of Technology.
Mr. Morris is the recipient of many awards, including the Barbados Award for Philanthropy, the Harry Jerome Lifetime Achievement Award from the Black Business and Professional Association, the African Canadian Achievement Award for Excellence in Community Service, and the Pride of Barbados Award for outstanding activity in the Barbados diaspora from the Government of Barbados.