Mr. Desmond Newman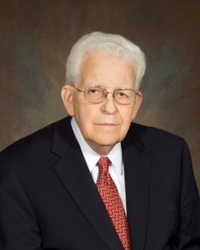 Doctor of Laws, honoris causa
Faculty of Business and Information Technology
Faculty of Science
For his entrepreneurial spirit, vision for innovation and his steadfast commitment to his community, we are proud to confer upon Mr. Desmond Newman the honorary degree of Doctor of Laws.
While Georgetown, British Guiana was his birthplace, Whitby, Ontario has always been Mr. Newman's home. He spent summers working locally at General Motors and other plants in the area to earn money for his tuition fees. He returned to Whitby in 1955, and became a Canadian citizen in 1960.
He became a leader in the Canadian coatings industry. He worked on parts for the famous Avro Arrow and Canada's first communications satellite, Alouette. Later, his company developed specialized coatings for use on the Space Station and provided protective coatings for the Canadarm. As an entrepreneur, he developed international partnerships in vacuum and plasma-assisted electron-beam technologies and his company, in partnership with the National Research Council of Canada, continues to expand its research and development expertise. In 2005, the Aerospace Industries Association of Canada made him an Honorary Life Member for exceptional service to the Association and the Industry.
In 1966 he became the Town of Whitby's youngest elected Mayor. During his ten-year term, he advocated for the amalgamation of the Town and Township of Whitby, the creation of a Durham regional government, the need for an international airport East of Toronto, a new municipal building for Whitby, and the Iroquois Park Sports Complex. On his retirement, he was given the Freedom of the Town, an honour rarely conferred.
His influence can be seen in many aspects of the community, including education, health, sports, recreation and culture. He helped to create the J.O. Ruddy General Hospital (now Lakeridge Health Whitby), Whitby Arts Inc. (now the Station Gallery), the Denis O'Connor Secondary School and was Chairman of the Industrial Accident Prevention Association for Central Ontario. Currently, he is President of the Rotary Club of Whitby.
For his commitment to the community, Mr. Newman was honoured with the prestigious Peter Perry Award in 2011 and with the Queen's Diamond Jubilee Medal in 2012. That same year, he was honoured with the naming of the Des Newman Arena Complex at the Iroquois Park Sports Centre, and his name will be attached to a new road being built in conjunction with the Highway 407 link in west Whitby.