Ms. Annette Verschuren
Doctor of Laws, honoris causa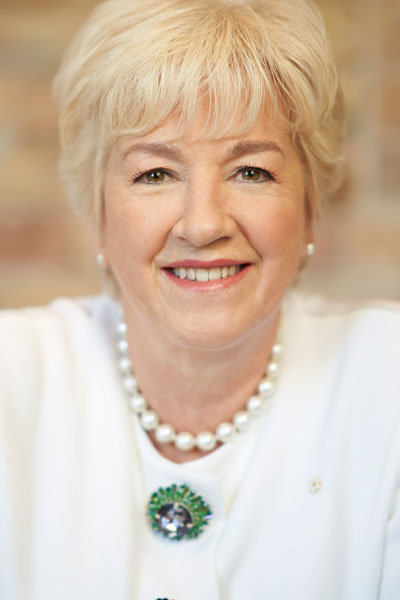 For her entrepreneurial leadership in Canadas business sector, her commitment to reducing barriers that hamper women in the workforce, and for her championing of corporate social responsibility, community investment and volunteerism, the university proudly confers upon Ms. Annette Verschuren the honorary degree of Doctor of Laws.
Ms. Verschuren has an outstanding record of accomplishment for driving rapid growth in the organizations she has led. She is Chair and Chief Executive Officer of trailblazing clean tech energy storage company NRStor Inc. , as well as the Board Chair of MaRS Discovery District, Canadas largest innovation platform.
Previously, she was President of The Home Depot Canada and Asia, overseeing the company's Canadian expansion from 19 to 179 stores between 1996 and 2011, as well as the company's entry into China. She also co-founded the craft chain Michaels Canada, opening 17 stores in 26 months.
Her early career included leadership positions with the Cape Breton Development Corporation, the Canada Development Investment Corporation, and Imasco Ltd.
Ms. Verschuren has served as the Chancellor of Cape Breton University in Sydney, Nova Scotia since 2004. She has supported and led capital campaigns, including the one created for the university's Verschuren Centre for Sustainability in Energy and the Environment.
She serves on the boards and advisory councils of a variety of organizations, including Canadian Natural Resources Limited, Liberty Mutual Insurance Group of Boston, Air Canada, Saputo and the Centre for Addiction and Mental Health Foundation.
She sits on the federal government's Science, Technology and Innovation Council and co-chairs the Smart Prosperity Initiative, which is mapping out a course to a stronger, cleaner economy for Canada. She is former Vice-Chair of the Canadian Council of Chief Executives and co-chaired the 2012 Governor General's Leadership Conference, Canadas premier leadership training event.
Ms. Verschuren is an Officer of the Order of Canada. On June 19, she will be inducted as a member of the Canadian Business Hall of Fame.
In her bestselling book Bet On Me: Leading and Succeeding in Business and in Life, she shares the fundamental leadership lessons that took her from a small dairy farm in Nova Scotia to the upper echelons of corporate Canada. The book was a finalist for the 2017 National Business Book Award.
She holds a Bachelor of Business Administration degree from St. Francis Xavier University in Antigonish, Nova Scotia.