Ms. Kate Beirness
Doctor of Laws, honoris causa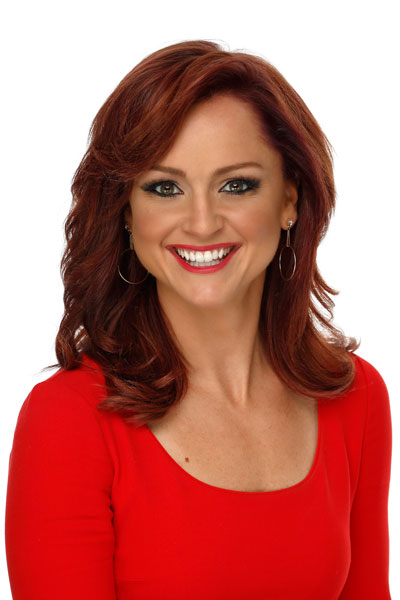 For her outstanding work as a Canadian television sportscaster, her dedication as a role model to inspire the next generation of female leaders, and her ongoing support in promoting her alma mater the University of Ontario Institute of Technology, the university proudly confers upon Ms. Kate Beirness the honorary degree of Doctor of Laws. Ms. Beirness is the first graduate of the university to receive an honorary degree.
Born and raised in Port Perry, Ontario, Ms. Beirness was a standout high school basketball player who dreamed of one day playing professionally in the Women's National Basketball Association. A serious knee injury in Grade 12 curtailed those plans, prompting her to switch gears and pursue a career in sports broadcasting.
She took an unconventional path to her dream job. Her first position in the business was at Sportsnet, booking travel and completing expenses for on-air talent. She took the advice of her boss who encouraged her to leave and get experience in front of the camera. She left Sportsnet to volunteer at Rogers TV Durham while completing a Bachelor of Commerce degree (class of 2009). While on campus she also spent time as a volunteer announcer with Riot Radio, the on-campus closed-circuit radio station.
Ms. Beirness fun, high-energy and confident TV presence has made her one of TSNs most-recognized personalities. At the end of 2009, she joined The Sports Network (TSN), and in 2014, she was paired with Natasha Staniszewski, forming the networks first female anchor team on TSNs flagship program SportsCentre.
Kate is currently the sideline reporter for all Toronto Raptors broadcasts on TSN and the host of Thursday Night Football. She has hosted many marquee sports events, including TSN Olympic Morning in 2012, CBC Olympic hockey in PyeongChang in 2018, NCAA March Madness, the NBA Draft, and co-hosted the Grey Cup.
She is a frequent community speaker, emcee and event host. She joined a Canadian Armed Forces tour to visit troops in Kuwait, France and Ukraine. In 2016, Ms. Beirness jumped at the chance to present at the university's Global Alumni event, speaking passionately about breaking down barriers for women, and the one-on-one learning experiences she received while at university.
She founded and hosted the first HER MARK Summit in July 2017, a gathering of speakers, athletes and educational panels for 100 hand-picked Toronto-area female high school students. Sponsored by sports industry powerhouses TSN, Maple Leaf Sports and Entertainment, and Under Armour, HER MARK aims to empower the next generation of female leaders.