The Right Honourable Beverley McLachlin
Doctor of Laws, honoris causa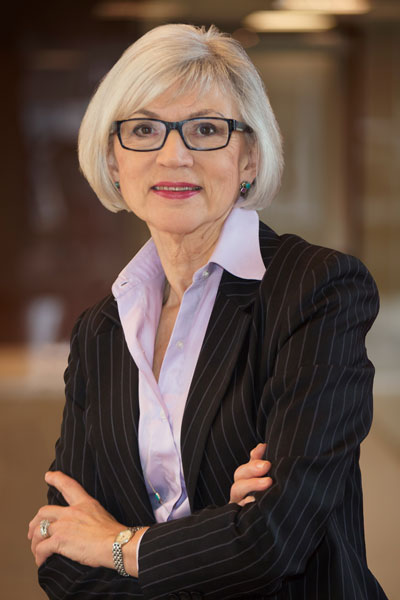 For her distinguished career and leadership in Canadas judiciary, her championing of equality, diversity, inclusion and human rights, and for her unwavering support of reconciliation with First Nations, the university proudly confers upon The Right Honourable Beverley McLachlin the honorary degree of Doctor of Laws.
Ms. McLachlin served as Chief Justice of the Supreme Court of Canada for nearly 18 years, the longest such tenure in Canadian history. She was the first and only woman to hold the position of Chief Justice. Her leadership, spanning the terms of four Prime Ministers and four Governors General, is credited with helping make Canadas Supreme Court one of the most respected courts of final jurisdiction in the world.
Coming from humble beginnings in southern Alberta, Ms. McLachlin became a role model and a pioneer to women in the traditionally male-dominated field of law. She received her bachelors and master's degrees in philosophy, and her Bachelor of Laws from the University of Alberta. She was called to the Alberta Bar in 1969 before moving to British Columbia (B. C.). From 1974 to 1981 she was a tenured law professor at the University of British Columbia.
Her meteoric rise in the judiciary began in 1980 with an appointment to the Vancouver County Court. She joined the B. C. Supreme Court a year later, ultimately becoming Chief Justice.
In 1989, she was appointed to the Supreme Court of Canada. One of the most experienced judges in the history of the Court, Ms. McLachlin participated in more than 2,000 Supreme Court judgments. She authored more than 400 rulings, including high-profile decisions upholding Canadas ban on child pornography; striking down security certificate legislation and Canadas antiprostitution laws; ruling in favour of Vancouver's safe injection site; and invalidating mandatory minimum sentences for gun crimes.
As Chief Justice, she encouraged in-person communication and regular convening, resulting in a high degree of consensus in Supreme Court decisions. Under her leadership, the court became a champion of Indigenous rights. In 2015, she spoke at the Global Centre for Pluralism, where she said Canadas treatment of Indigenous Peoples had been an attempt at cultural genocide. She encourages a focus on bridging divides instead of deepening them.
In 2018, Ms. McLachlin became a Member Arbitrator at Arbitration Place, working as an arbitrator and mediator in Canada and internationally. She brings to those forms of dispute resolution her more than 35 years' experience in leading and consensus building. She remains an appointee or patron to a wide range of councils, academies and societies around the globe.
In 2018, Ms. McLachlin was invested as a Companion of the Order of Canada, the Orders highest accolade, for merit to Canada and humanity on the national or international scene. She has received more than 35 honorary degrees from universities in Canada and abroad, along with numerous other honours and awards.