The Right Honourable David Johnston and Mrs. Sharon Johnston
Doctor of Laws, honoris causa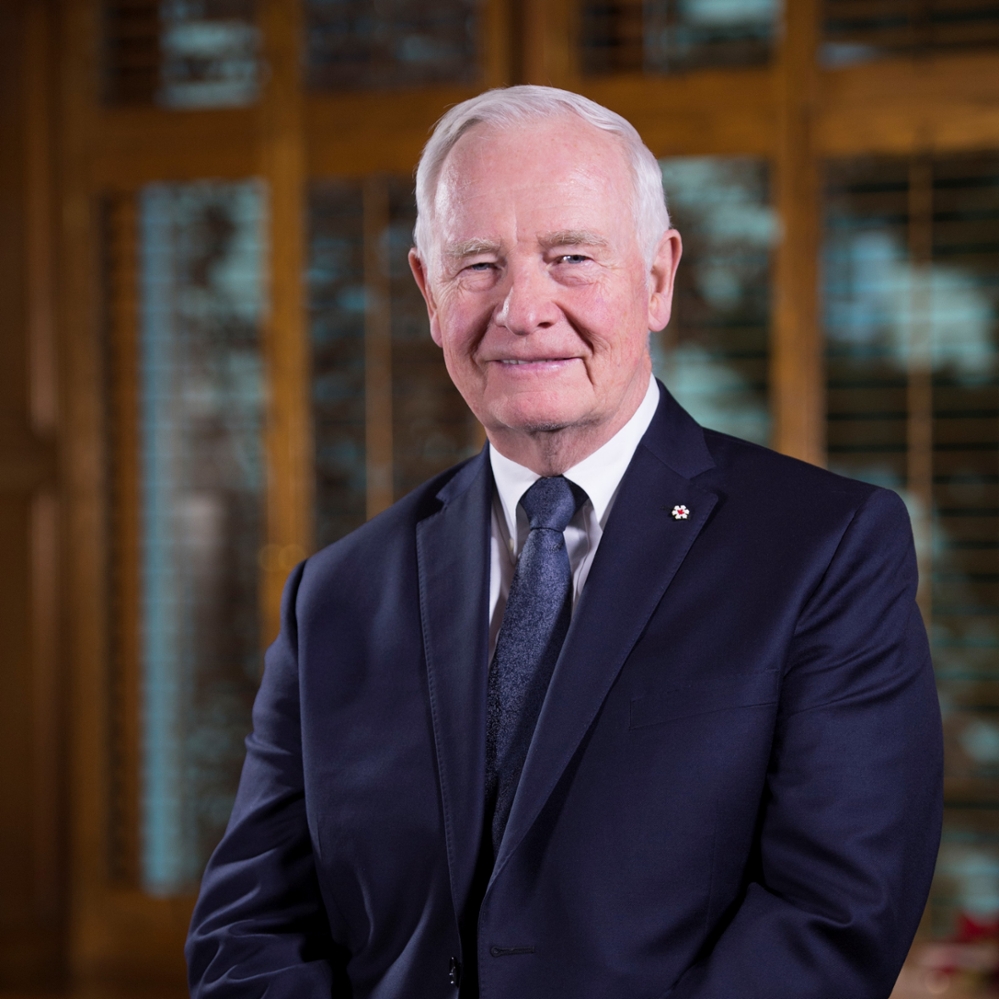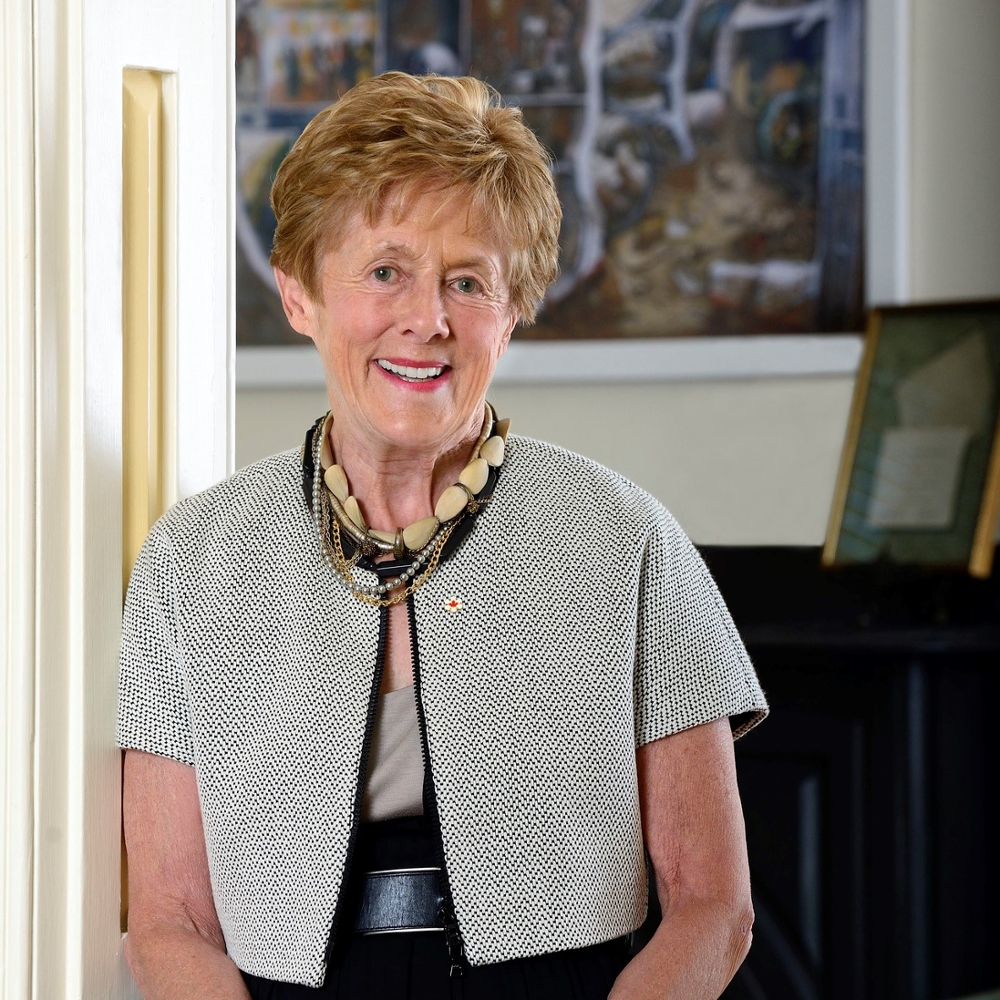 For their dedicated service to Canada, their outstanding leadership as scholars, educators and public servants, and for their philanthropic example, the university confers proudly upon The Right Honourable David Johnston, CC, CMM, CD, and on Mrs. Sharon Johnston, CC, the honorary degrees of Doctor of Laws, honoris causa. 
Just prior to his installation as Canada's 28th Governor General in 2010, The Right Honourable David Johnston was granted a personal coat of arms. The symbols on that coat of arms define the lives and contributions of both Mr. and Mrs. Johnston.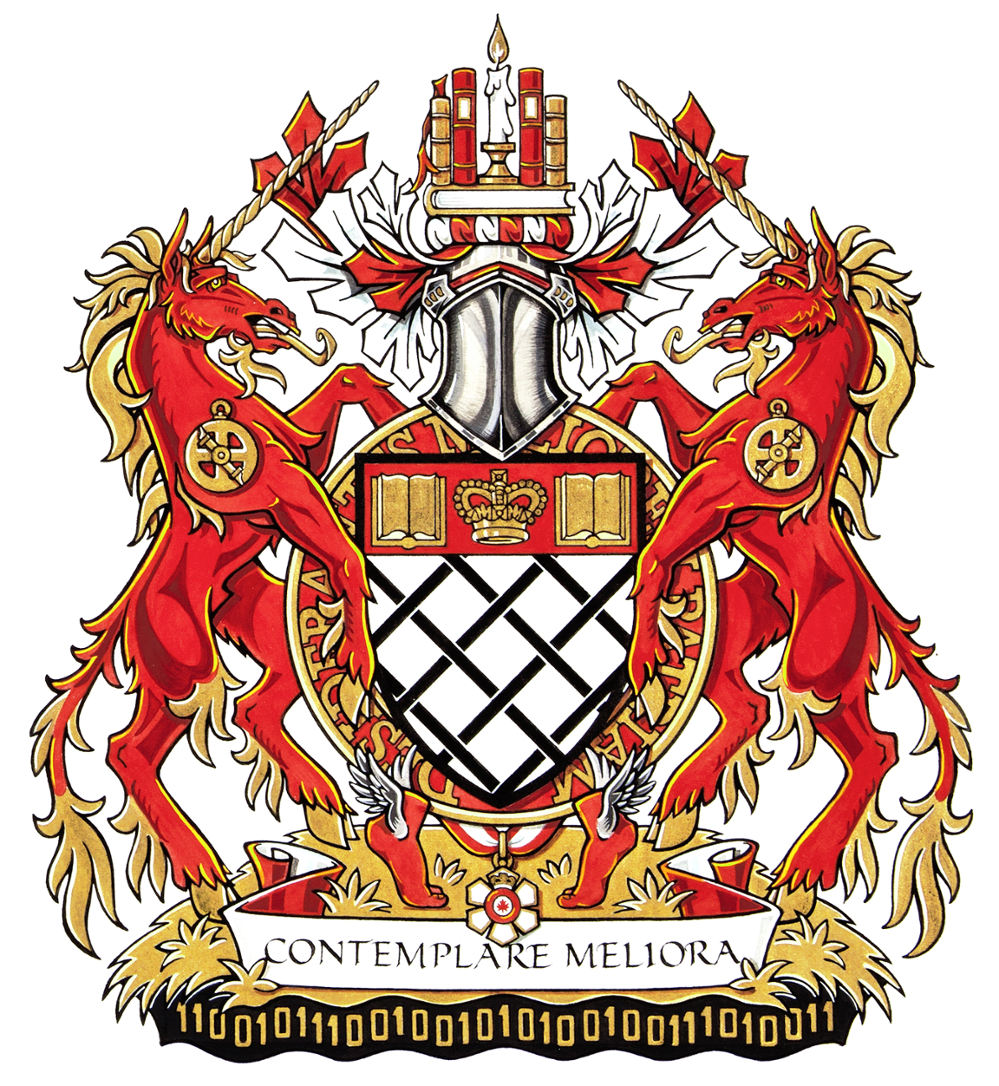 The coat of arms contains connective elements that symbolize the central role of family, voluntarism and other relationships in their lives. An image of five books refer to their five daughters, as well as to their respective graduate degrees in law and in science. A lit candle conjures enlightenment and the transmission of knowledge. A pair of unicorns symbolize dreams, imagination, purity and faithfulness. A pair of winged feet symbolize travel, even as they evoke fitness and sports. A banner of zeros and ones conjure the learning and innovation of the modern digital world that continues to inspire the Johnstons. Finally, the motto on the coat of arms Contemplare Meliora invites optimism, entreating the world "to envisage better things".
Learning and innovation. Philanthropy. Volunteerism. Families and children. Optimism. All words that epitomize the life and work of Mr. and Mrs. Johnston.
The Johnstons met in Sault Ste. Marie, Ontario and became high school 'sweethearts'. After high school, Mr. Johnston headed directly to Harvard University where he excelled both in-class and on the ice. He was twice named all-American in hockey and inducted to Harvard's Athletic Hall of Fame. Graduate degrees from the University of Cambridge and Queen's University followed, leading into his 45-year career as a Professor of Law. He served multiple terms as Principal of McGill University and President of the University of Waterloo, and chaired several dozen provincial and federal task forces and committees. He was the first non-U.S. citizen to be elected chair at Harvard University's Board of Overseers. In 2010, Her Majesty Queen Elizabeth II named Mr. Johnston as Canada's 28th Governor General; his nearly eight years of service ranks him among Canada's longest-serving Governors General.
Mrs. Johnston studied physiotherapy and occupational therapy at the University of Toronto and Western University, before obtaining her doctorate in Rehabilitation Science from McGill University. She enjoyed an illustrious career in rehabilitation science, widely known for her steadfast commitment to mental health and wellness advocacy. She has also been lauded for her dedication to supporting Indigenous youth and families. Beyond her public service work, Mrs. Johnston has distinguished herself both as a writer of historical fiction and as manager of a dressage training centre; she continues to ride her horse three times per week.
During Mr. Johnston's term as Governor General, he established the Rideau Hall Foundation, a registered charity that supports and amplifies the Office of the Governor General in its work to connect, honour and inspire Canadians. The Johnstons continue to shepherd the foundation's work.
Mr. Johnston was appointed Officer of the Order of Canada in 1988 and promoted to Companion in 1997. Mrs. Johnston was appointed Companion of the Order of Canada in 2010. In their post-viceregal lives, the Johnstons now share—with fourteen grandchildren and with Rosie, their Chesapeake Bay Retriever—a farm west of Ottawa.
In their work, both public and philanthropic, they evince the promise of the Johnston coat of arms—namely to foster a more just and enlightened world; to create a smarter and more caring nation; and to invite all Canadians to "envisage better things".