Doctor of Laws, honoris causa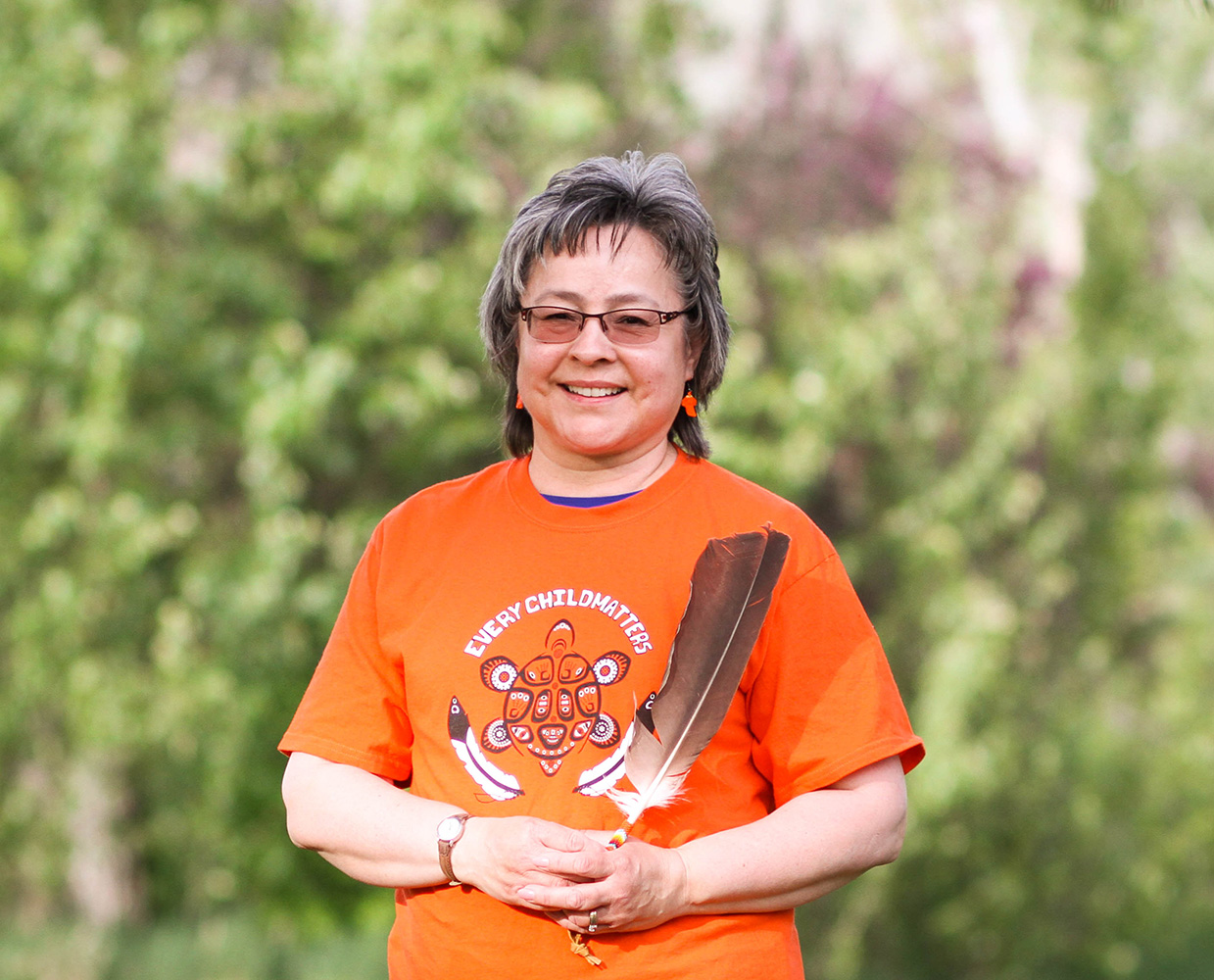 For her efforts to raise awareness about the legacy of Canada's residential school system, her advocacy for Indigenous Peoples, and her commitment to providing Indigenous Peoples with a platform to have their voices heard, the university proudly confers upon Ms. Phyllis Webstad the honorary degree of Doctor of Laws, honoris causa.
As the founder of Orange Shirt Day and Ambassador of Orange Shirt Society, Phyllis Webstad facilitates dialogue around the disturbing history of Canada's residential school system and creates space for healing. Orange Shirt Day, recognized annually on September 30, is a day to honour survivors and their families and to remember those that never made it home. It is also a day for people to reflect, educate themselves and commit to the calls to action of the Truth and Reconciliation Commission of Canada, issued in 2015.
Ms. Webstad is Northern Secwépemc (Shuswap) from the Stswecem'c Xget'tem First Nation (Canoe Creek Indian Band). When she was just six years old, she attended St. Joseph's Mission Residential School near Williams Lake, British Columbia. Her grandmother purchased for her an orange shirt to wear on her first day of school, but upon arrival, her shirt was forcibly removed. No matter how much she cried or protested, her special new shirt was never returned. That cruel action resulted in her feeling unimportant and as though she did not matter.
The colour orange has since symbolized the impact of residential schools and has become a physical symbol for the 'Every Child Matters' movement. The B.C.-based not-for-profit Orange Shirt Society was created as a legacy to Orange Shirt Day, to support reconciliation efforts and to create awareness of the individual, family and community inter-generational impacts of residential schools. 
Over her career, Ms. Webstad has acquired diplomas in Business Administration from Nicola Valley Institute of Technology in Merritt, B.C. and in Accounting from Thompson Rivers University (TRU) in Kamloops, B.C. She received TRU's Distinguished Alumni Award in 2017 for her unprecedented impact on local, provincial, national and international communities through the sharing of her orange shirt story. In January 2022, she was awarded the Governor General's Meritorious Service Cross (Civil Division).
A profound storyteller and author, Ms. Webstad has published three books that share her story in her own words: The Orange Shirt Story; Phyllis's Orange Shirt; and Beyond the Orange Shirt Story. Through her work, a simple orange shirt has become a conversation starter for all aspects of residential schools across the country and beyond its borders.