Dr. Clement Bowman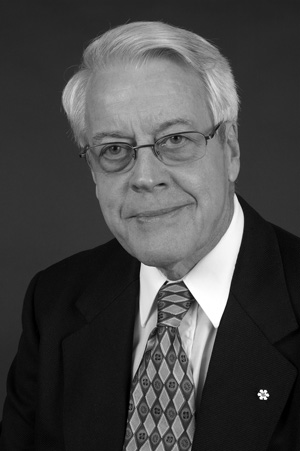 Doctor of Science, honoris causa
We are proud to confer upon Dr. Clement Bowman the honorary degree of Doctor of Science for visionary leadership within the energy sector and his commitment to a national strategy for a low carbon footprint in Canada.
Dr. Bowman began his long and distinguished career in the energy industry with Imperial Oil Limited. He moved on to become the Chair of the Alberta Oil Sands Technology and Research Authority where he was responsible for initiating a project which revolutionized the oil sands industry and brought considerable wealth to Alberta and Canada. His career highlights include being Chair of the Alberta Government's Technology and Research Advisory Committee, President of the Alberta Research Council, and Vice-President responsible for the Research Centre at Esso Petroleum Canada in Sarnia, Ontario.
His work led to the successful commercialization of new technologies and significant improvements in the practices of technology-intensive organizations. He has recently co-authored a book, which outlines a number of priorities Canada should follow this century to become a sustainable energy superpower.
Dr. Bowman has received a number of awards including the Queen Elizabeth II Silver Jubilee Medal, Member of the Order of Canada and the Laureate of the Global Energy International Prize.