Mr. Garry Cubitt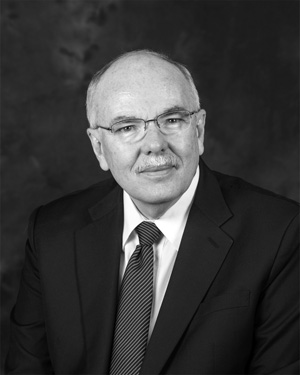 Doctor of Laws, honoris causa
For his outstanding leadership, benevolence and unflagging commitment to ensuring the success of the university and the Region of Durham, we are proud to confer upon Mr. Garry Cubitt the honorary degree of Doctor of Laws.
Mr. Cubitt is the Chief Administrative Officer (CAO) for the Regional Municipality of Durham and is responsible to Regional Council for all the services provided by the Region. For more than 42 years he has served the public sector, beginning his career as a social worker. Durham Region has experienced significant growth and change during his time as CAO and he continues to ensure exceptional municipal services are delivered to Durham Region residents.
A long-time resident of Oshawa, he has given back to the community through his dedicated volunteer work with many organizations across Durham Region. He has been widely recognized by a number of organizations and was awarded the William G. Davis Award for his contributions to Ontario community colleges and a Queen Elizabeth II Diamond Jubilee Medal. Mr. Cubitt has made an outstanding contribution toward the creation and development of the university as the founding Chair of the Board of Governors. He remains active with both the university and Durham College Boards.