Mr. Lorne Trottier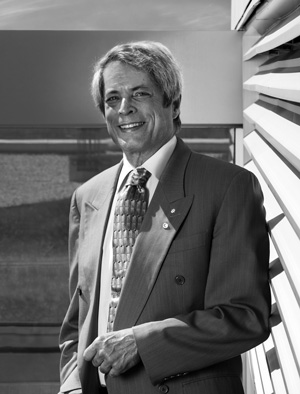 Doctor of Science, honoris causa
We are proud to confer upon Mr. Lorne Trottier the honorary degree of Doctor of Science, honoris causa for his dedication as a philanthropist, entrepreneur, innovator and visionary who has forged new paths toward and financially supported the development of safe, clean and reliable energy in Canada.
Mr. Trottier is the Co-Founder of Matrox, a Dorval, Quebec-based company known for its innovative computer graphics, video and imaging products. He is President of the Board of the Montreal Science Centre Foundation, a member of the Advisory Boards of the Faculties of Science and Engineering of McGill University in Montreal, Quebec and a treasurer of the United States-based National Center for Science Education.
He established the Trottier Family Foundation to support science and technology education, public health care and third-world economic development. His vision has led to a partnership with the David Suzuki Foundation and the Canadian Academy of Engineering to create the Trottier Energy Futures project. He envisions a future with a cleaner environment in which Canada is seen as a leader in innovative clean-energy solutions. Mr. Trottier was named a Member of the Order of Canada in 2007. He was promoted to Officer of the Order of Canada in 2017.