Construction of Shawenjigewining Hall
We're too busy breaking new ground to grow ivy on our walls
Construction underway on university's new central hub of collaboration and learning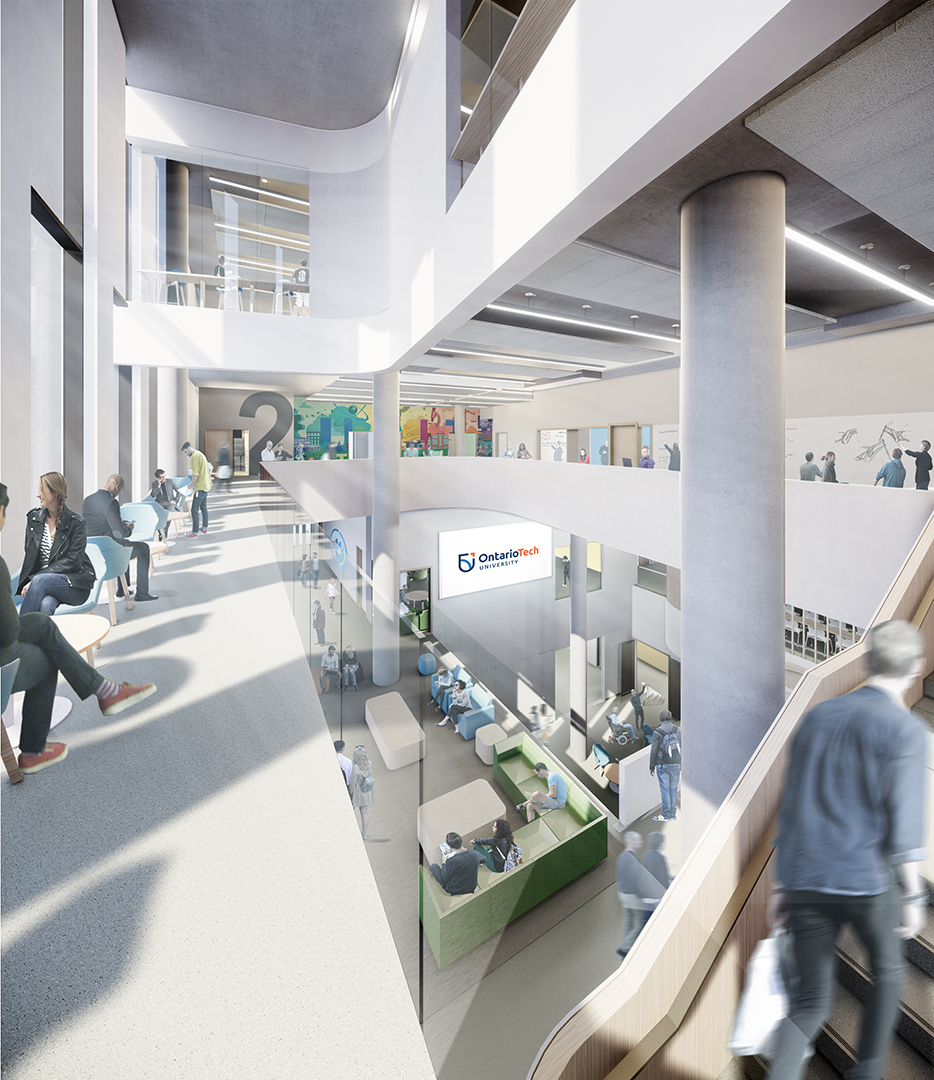 In the heart of our north Oshawa location, construction of Shawenjigewining Hall, our newest building, is underway. This is where our campus community will come together to learn, collaborate and unwind.
During the building process, three key topics emerged through meaningful discussions with the members of the campus community, including the Ontario Tech Student Union, and members of the design team.
Construction is continuing during the pandemic under the conditions provided by the government of Ontario. We continue to work with contractors and all partners to complete the project as close as possible to the target completion date of Fall 2021, understanding that some circumstances beyond our control are leading to inevitable delays.
Sticky campus
We're enhancing our accessible, equitable, diverse and inclusive culture for our campus community. We want our students, faculty and staff to stick around because they want to be here. Shawenjigewining Hall will provide much-needed new space and create more open spaces for the intersections that define the Ontario Tech experience.

In this regard, Shawenjigewining Hall will:



Bring people together to mix and form a broader community.
Make everyone feel welcome.
Promote a culture of sharing with inviting spaces that support communal use and collaboration.
Offer new food and beverage options and inviting socializing spaces.
Provide the Ontario Tech Student Union with dedicated space that will help enhance the student experience.

 
Latest technology for modern learning
We adapt to the ever-changing educational landscape by experimenting with the most effective ways to deliver flexible and dynamic learning. It's important that we remain current and have the ability to adapt to future innovations.

In this regard, Shawenjigewining Hall will:



Support the delivery of the latest learning techniques through tech-focused classrooms that encourages student-to-student learning.
Promote flexibility and adaptability with configurable classrooms and moveable furniture.
Foster learning outside of the traditional classroom by creating an environment that encourages learning through social interaction and group work, such as outdoor spaces, social spaces and food-service areas.
Facilitate entrepreneurship with spaces that allow students to collaborate and network with industry partners.

 
Sustainability and wellness
We're always pointing to a better future, which is why commit to being a leader in offering a sustainable campus.

In this regard, Shawenjigewining Hall will:



Use our existing geothermal wellfield as well as solar energy from photovoltaic panels.
Conserve energy by optimizing solar orientation and glazing on windows, as well as having a high-performance envelope design.
Utilize the university's existing greywater system (fueled by fish tanks in the Aquatic Toxicology lab) to flush toilets.
Accommodate future changes with infrastructure designed to be inherently flexible.
Support the university culture by providing late-night amenities including areas for people to rest, nourish their appetite, and accommodate everything needed to work in a modern, agile way.
Provide occupant comfort guided by the WELL, a performance-based system for measuring, certifying, and monitoring features of the built environment that impact human health and well-being, through air, water, nourishment, light, fitness, comfort and mind.
Incorporate curved openings on lower floors to promote penetration of natural light into the building as well as visual connections.


Shawenjigewining Hall will complete the original quad of buildings, enclosing the east side of the of our sprawling Polonsky Commons greenspace. It will become home to the:
 

Faculty of Health Sciences' lecture theatres, academic offices and labs, including a high-tech simulation lab that will provide access to the latest advances in 3D solutions and augmented and virtual reality.
Office of Student Life and the support services they offer.
Ontario Tech University Student Union. 
Interested in helping to bring this bold vision to life for our students? 
Contact our Advancement Office to discuss the endless opportunities available.
Advancement Office
905.721.8668 ext. 5660
advancement@ontariotechu.ca