Perrin Beatty (2008-2015)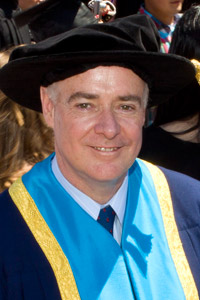 The Honourable Perrin Beatty, a distinguished former federal cabinet minister and the President and Chief Executive Officer of the Canadian Chamber of Commerce, was appointed as the university's second Chancellor in August 2008. He was installed in a ceremony at the Regent Theatre on November 7, 2008.
Chancellor Beatty presided over seven Convocations between 2009 and 2015, during a period of tremendous growth in enrolment, greater brand awareness and expansion of the university's infrastructure.
A native of Fergus, Ontario, Beatty graduated from Upper Canada College, Toronto, Ontario in 1968 and continued his education in London at the University of Western Ontario, graduating with a Bachelor of Arts degree in Social Sciences in 1971.
His lengthy political career began only one year after obtaining his degree, when he was elected to the House of Commons as a member of Robert Stanfield's Progressive Conservative Party. He went on to win six consecutive elections as a Member of Parliament.  
After the party came to power in 1979, he was appointed by Prime Minister Joe Clark as Minister of State for the Treasury Board, making Beatty the youngest person to that time to serve in federal cabinet.
Beatty continued to play a prominent role in subsequent Progressive Conservative governments between 1984 and 1993. He held numerous cabinet posts in the Brian Mulroney Government, including Minister of National Revenue (1984), Solicitor General (1985), Minister of National Defence (1986), Minister of National Health and Welfare (1989), Minister of Communications (1991). He served as Secretary of State for External Affairs (1993) in the Kim Campbell Government.
Following his political career, Prime Minister Jean Chretien appointed Beatty in 1995 as President and CEO of the Canadian Broadcasting Corporation, a position he held until 1999 when he became President and CEO of Canadian Manufacturers & Exporters. Eight years later he joined the Canadian Chamber of Commerce as President and CEO.
Beatty has served on a number of Canadian government advisory committees, was a member of the Board of Directors of the Canadian International Council and the Advisory Council of the Canadian Defence and Foreign Affairs Institute, and is a member of the Board of Directors of Mitsui Canada. He has also taught a course in Communications Technologies and Public Policy at the University of Western Ontario as an honorary visiting professor. He received an honorary Doctor of Laws degree from Western in 2013.
"I am honoured to be invited by UOIT to support its vital mission. Canada's ability to compete in the global economy will require a world-leading workforce. Through its talented faculty and innovative curriculum, the University of Ontario Institute of Technology can make a vital contribution to equipping a new generation of Canadians with the skills they need to succeed."
-Chancellor Perrin Beatty, August 2008