Office of the President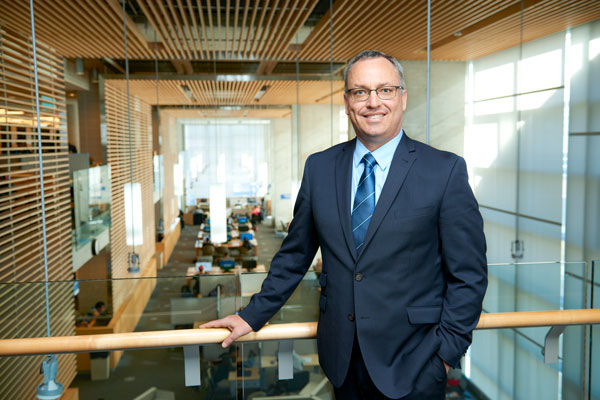 Dr. Steven Murphy has served as the fourth President and Vice-Chancellor of Ontario Tech University since March 1, 2018 and has been reappointed for a second term. His vision is captured in five over-arching principles: reimagining education, embracing technology, increasing engagement on campus, rebranding and telling the story of our unique institution.
His bold approach is represented by a youthful and energetic new university brand. Dr. Murphy has championed student-led initiatives which increase engagement on campus. He actively encourages students to embrace a collaborative approach with a focus on innovations that improve society and our planet.
Dr. Murphy is passionate that, if we are to unleash our global competitive advantage, we will need to engage Canadians from often-marginalized, equity-deserving groups in meaningful, entrepreneurial pursuits. As a result, he has advanced the University's mission of increased inclusivity and accessibility through key initiatives that have placed diversity at the centre of programming. For example, the entrepreneurial incubator Brilliant Catalyst has worked with federal, provincial and municipal counterparts to ensure that Black and Indigenous youth and students are provided access to entrepreneurial networks. Dr. Murphy believes that leveraging our diversity is the key to Canada's competitive future. At Ontario Tech we are seeing the results of this approach.
Despite the size of Ontario Tech, he recognized the breadth of expertise around issues related to energy which have allowed him to create the Brilliant Energy Institute, a multidisciplinary facility able to provide an innovative approach to the clean energy transition.
Dr. Murphy strives to reimagine higher learning to support the kind of intermittent pursuit of learning that will fuel Canada's knowledge economy. This resulted in Ontario Tech becoming an early leader in developing microcredentials and founding a stand-alone business, Ontario Tech Talent, poised to challenge traditional approaches of academia to modular learning.
Dr. Murphy is renowned for his organizational and human behaviour expertise across business and industry and brings this experience to guide his leadership strategy. Notably, his dedication to equity, diversity and inclusiveness underscores every facet of how he lives his life both personal and professional. Beyond the lenses of race and gender, he embraces diversity of thoughts and ideas.
As Dean of the Ted Rogers School of Management at Toronto Metropolitan University (formerly Ryerson), Dr. Murphy transformed the school's brand, established novel interdisciplinary programs and fostered innovative and entrepreneurial co‐op opportunities for students. Previously, he spent more than a decade in progressive academic leadership roles at Carleton University's Sprott School of Business, as Associate Dean, Research and External. He holds an esteemed record of academic achievement awards for his work examining the role of emotions in strategic decision‐making, leadership and boards, as well as his insightful approach to student‐driven teaching.
He earned a Bachelor of Commerce (Honours) in Human Resource Management, a Master in Management Studies (with Distinction) in the Management of Technology and completed his Doctorate in Management, Organizational Behaviour, at Carleton University.
Dr. Murphy serves the broader community of academics and research at a provincial and national level. He has been appointed to two consecutive terms on the NRC Council since June 2019. He serves as Co-Chair of eCampus Ontario, and as a member of the Executive Committee, the Strategic Planning Committee and the Chair of the Budget and Finance Committee for the Council of Ontario Universities. His appointment to the Education Committee of Universities Canada shows recognition at a national level for his work on digital, inclusive pedagogy. As Chair of the Board for Ontario University Athletics, and as a member of the national board of USPORTS Canada he is able to translate his passion for athletics into championing diversity and leveraging sport as social glue to achieve more cohesive communities.