Legal Studies
| | |
| --- | --- |
| Degree | Bachelor of Arts (Honours) |
| Faculty | Faculty of Social Science and Humanities |
| Location | Downtown Oshawa campus location |
| Start dates | September |
| Length | Four years |
| Program load | Full-time |
| OUAC code | DAL |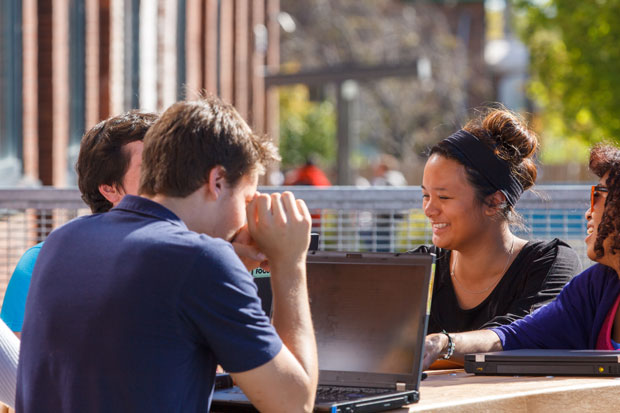 Legal Studies examines law's defining features, forms and functions, and critically engages with how law interacts with and responds to social, political and technological change. The program demonstrates a commitment to promoting justice by cultivating sensitivity to diversity and exploring what it means to become an active, socially responsible citizen.
General information
Most of today's controversial issues—whether stemming from political conflict, technological developments, economic inequality or other social changes—are expressed and mediated through law. The Legal Studies program offers you the opportunity to critically explore the social roles of law and its connections with community, government and society from different theoretical perspectives. The program demonstrates a commitment to promoting justice by cultivating active citizenship skills, critical reflection, and respect for diversity, pluralism, equality, and equity.  
You will be stimulated to appreciate the law in its plural—formal and informal—forms and to evaluate it from diverse perspectives. You will be challenged to question whether law equally responds to the needs of all groups in society, including Indigenous people, racial minorities, immigrants, the poor, women, members of the 2SLGBTQ+ community and persons with disabilities. You will study law in relation to topical themes, including national security, globalization, technology and the environment. You will explore various ways of resolving social conflicts—from traditional court processes to alternative methods of dispute resolution such as mediation.
Legal Studies graduates have knowledge and skills suitable for careers requiring legal research and analysis, policy analysis, human rights advocacy, mediation, and/or an understanding of privacy and information access issues. The program also offers preparation for graduate work in legal studies, law school, or paralegal or mediator certification programs.
You may pursue the comprehensive program or a specialization in:
Alternative Dispute Resolution
Human Rights Law
Information Law
---
Additional information
For detailed information about the Legal Studies program and faculty, testimonials from current students and alumni, and exciting Legal Studies events and initiatives, visit the Legal Studies website.
Program curriculum
Sample courses:
Canadian Human Rights Law
Censorship and Freedom of Expression
Criminal Law
Disability and the Law
Employment and Mediation
Family Law
Family Mediation
Gender, Sexuality and the Law
Immigration and Refugee Law
Indigenous Peoples, Law and the State in Canada
Information and Privacy Law
International Law
Labour and Employment Law
Law and Globalization
Legal Research Methods
Public and Private Law
A full program map is available in the Undergraduate Academic Calendar. Courses are subject to change without notice.
Experiential learning
A limited number of fourth-year students have an opportunity to participate in a learning experience with a community organization. The practicum is an experiential learning tool that provides students with opportunities to acquire workplace skills and knowledge, confront the relationship between theory and practice, and cultivate a sense of personal and professional development. The practicum course consists of 100 hours of fieldwork, several in-class seminars and a set of academic assignments.
Career opportunities
Legal Studies is an interdisciplinary field that opens up possibilities for careers such as:
Federal and provincial government administrator
Human rights advocate
Legal or policy analyst
Legal researcher
Mediator/dispute resolution specialist
Social services worker