Education (Master of Arts - Online program)
Overview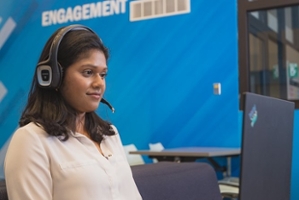 The graduate programs in Education are designed specifically to prepare future leaders and specialists in learning and technology.
The Master of Arts (MA) in Education is unique and at the leading edge in both its objectives and approaches to learning online. The program addresses the most recent issues involving digital technology, leadership, curriculum and adult education. Collaborative learning, co-construction of knowledge, peer tutoring and personalization are key approaches used in this program by professors with diverse research backgrounds in educational technology.

Students enrolled in all graduate programs in Education will take their courses completely online, which includes weekly video conferencing meetings.
Admissions
Admissions
Hold a four-year honours undergraduate degree, or a three-year university degree and a Bachelor of Education degree, from a Canadian university or their equivalent from a recognized institution.
Minimum overall academic standing of a B (GPA: 3.0 on a 4.3 scale or 73 to 76 per cent), with a minimum B average in the last two full-time years (four semesters) of undergraduate work or equivalent.
Required supporting documents:
Please see the checklist of required documents for a list of supporting documentation that must be submitted with your application.
Additional requirements:
An admission interview may be required.
Required test scores for English language proficiency:
See English language proficiency for the minimum required test scores for this program.
Please see application deadlines for specific dates. Note that the application deadlines listed are for both the online application and all supporting documentation.
Applications for admission to all graduate studies programs are submitted online. There are five steps you must go through to complete the application process. See application process and requirements for step-by-step instructions.
---
Many of our graduate programs are extremely competitive; the number of qualified applicants normally exceeds the number of seats available for each intake. Satisfaction of minimum entry requirements does not ensure admission.
Research areas
computer-assisted language learning
educational gaming
information and communication technology (ICT) enhanced learning environments
learning with mobile technologies
Makerspace with mobile technologies
online learning communities
problem-based digital learning
social media and learning
video podcasts and digital learning
web-based online pedagogies
Learn more about the research areas within this program and find research experts by visiting the faculty's website and the university's Expert Centre.
Additional information
For program requirements, including required number of credits for completion, program maps and course descriptions, please see
the academic calendar and course catalogue of
Loading...
.
Courses are subject to change without notice.
Internal awards and funding
Applicants to research-based graduate programs who are studying full-time are automatically considered for some types of funding at the time of admission.
Types of funding that do not require an application:
Entrance scholarships
Minimum funding packages
Teaching assistantships, research assistantships and graduate research assistantships
For more details on the above funding opportunities, see graduate student awards and funding.
Please note: Part-time students are not eligible for the above funding opportunities.
External awards and funding
Graduate program applicants are encouraged to apply for external awards to help finance their education. The application process differs for each competition, so review the information carefully to determine where and when you must apply. Please note: The majority of these awards are for domestic or permanent residents only.
Tuition fees for graduate programs are charged on a flat-fee or fee-per-credit basis and vary by program and student status.
For current, specific fees and details on flat-fee versus fee-per-credit programs, please see tuition and fees.