Creativity, Digital Arts and Entertainment Industries
Overview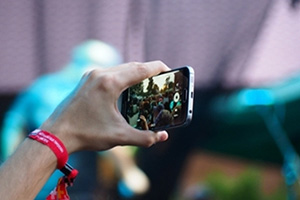 Explore creativity and how it intersects with business and entrepreneurship, law, politics and policy and new technology. Learn how to tell impactful stories about the world to make the social changes we want to see.
From Hollywood to Silicon Valley, creativity is core to the globe's largest entertainment industries, and the world has become a stage for all kinds of digital creators, artists and influencers. Whether made by a big studio or a YouTuber, new ideas, styles, artworks, apps, movies, TV series, games, songs, ads and videos spread around the world. Creativity is now everywhere and in everything, and the digital arts and entertainment industries are used to educate, distract, delight and persuade.
In the specialized Bachelor of Arts in Communication and Digital Media Studies (CDMS) - Creativity, Digital Arts and Entertainment Industries, you will learn about creativity, the digital arts and the entertainment industries in relation to the social environment that shapes them. You will explore the political economy of the creative industries, the legal, policy and regulatory environment that supports and sometimes stymies what digital media creators do and say on the internet and design and communicate ideas, images and stories to resonate with audiences and have a social impact. 
The specialized program's high-quality and socially relevant curriculum will provide you with a strong foundation in the theory, research, analysis and professional practice of communication and digital media, and its emphasis on creativity, digital arts and entertainment industries will open pathways to thousands of new and emerging 21st century careers.
I wanted to better understand the apps I was using and our communication environment, and this program was the perfect way to do that—whether it was about advertisements, social networking sites, news or influencers, I was learning about the digital media world.

Rilita Theodora

Bachelor of Arts (Honours) Communication and Digital Media Studies

Class of 2021
Admissions
Admissions
Current Ontario secondary school students must complete the Ontario Secondary School Diploma (OSSD) with six 4U or 4M courses, including English (ENG4U).
Note: Admission is competitive. The specific average or standing required for admission varies from year to year. Students are selected by taking into consideration a wide range of criteria including school marks, distribution of subjects taken and performance in subjects relevant to the academic program. Possession of the minimum requirements does not guarantee acceptance. Preference will be given to applicants with the best qualifications. 
| | |
| --- | --- |
| Last year's cut-off | 70 per cent |
| Expected cut-off | Low 70s |
Career opportunities
Advertising Expert
Communications Specialist/Officer
Content Creator
Creative Director
Digital Media Strategist/Storyteller
Freelance Content Creator
Journalist
Professional Editor
Public Relations Official
Social Media Co-ordinator/Specialist
Experiential learning
A limited number of fourth-year students have an opportunity to participate in a learning experience with a community organization. The practicum is an experiential learning tool that provides students with opportunities to acquire workplace skills and knowledge, confront the relationship between theory and practice, and cultivate a sense of personal and professional development. The practicum course consists of 100 hours of fieldwork, several in-class seminars and a set of academic assignments.
Sample courses

For program requirements, including required number of credits for completion, program maps and course descriptions, please see

the academic calendar and course catalogue of

Loading...

.

Courses are subject to change without notice.