Education, Consecutive, Primary/Junior
Overview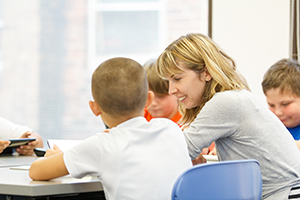 Our Bachelor of Education (BEd) Primary-Junior program is designed to provide you with the knowledge and skills you need to become an effective 21st-century educator.
Mission
Our mission is to develop thoughtful, well-informed and socially responsible educational teachers, making optimal use of new and emerging digital technologies for learning. We graduate exceptional teachers who will truly make a difference and become educational leaders. We also pride ourselves in having a strong, supportive student and faculty community.  We are committed to providing an inclusive and equitable learning environment, and our courses reflect these principles.
Primary-Junior division (kindergarten to grade 6)
We designed our Primary-Junior program to prepare you to be an extraordinary elementary school teacher who will change lives. We focus on helping you become a well-rounded, reflective practitioner with a growth mindset. We also emphasize critical areas desired by principals and school boards, including digital literacies, mathematics, coding, science, mental health and inclusion.
Why Ontario Tech?
We develop

exceptional teachers and leaders

who make a difference. 

We offer a

16-month program

that allows you to graduate and enter the workforce a full-term sooner than most other BEd programs.

We

masterfully integrate learning and technology

to help you create leading-edge digital-age experiences.

BEd graduates earn

priority status

to enter our

Master of Education program.
We are one of the only BEd programs to offer Mental Health First Aid Certification

in Canada.

We offer

Hearts & Minds Matter Training

, a 3-day workshop where you learn how to build community and experience a wide range of learning strategies.

We offer

multiple conferences

focusing on equity, diversity and inclusion, mental health, Indigenous issues, STEAM and sustainability.

We provide a fully-online semester

using state-of-the-art virtual classrooms, increasing your expertise in online learning environment
I honestly didn't expect to be fortunate enough to have a full-time, long-term, occasional teaching position so quickly after graduating from Ontario Tech; I'm currently teaching in our local school board. Thank you for everything—I wouldn't be where I am today without the faculty's guidance and support!

Nicole Heathcote

Bachelor of Education - Primary/Junior, Class of 2020

Elementary School Teacher, Durham District School Board
Admissions
Admissions
Applicants will hold an undergraduate degree from a recognized university, with a minimum required average of 70 per cent (B- or 2.7 GPA) in their best 10 full-year or best 20 half-year courses completed. Preference will be given to students with four-year honours degrees.
Primary/Junior (P/J) teachers deal with a wide range of subject areas so it is desirable that applicants have a broad academic background. In assessing the academic breadth of P/J applicants, the Faculty of Education gives preference to candidates who have one or more undergraduate or graduate courses in the subject groupings listed below:
English/Linguistics
Equity/Indigenous Studies
Fine Arts/Liberal Arts 
Mathematics
Science
Technology
Clearly, very few applicants will have coursework in all of the above areas; however, the more areas an applicant has studied, the stronger the application. Each candidate must have received the required undergraduate degree by July 1 of the year in which they begin their Bachelor of Education program.
A complete application includes:
Transcripts
Evidence of oral and written proficiency in English
A clear criminal record check is a post-admission requirement for all successful applicants 
*Applicants may be required to complete a personal characteristic evaluation.
Note: Admission is competitive. The specific average or standing required for admission varies from year to year. Students are selected by taking into consideration a wide range of criteria including school marks, distribution of subjects taken and performance in subjects relevant to the academic program. Possession of the minimum requirements does not guarantee acceptance. Preference will be given to applicants with the best qualifications.
Applicants with international documents
If you have completed a degree from an institution outside of Canada or the United States, you must have all official transcripts translated (if applicable) and evaluated by World Education Services (WES). Please request the WES ICAP – Course by Course Evaluation.
As an applicant, it is your responsibility to:

Ensure all documents required for assessment are sent directly from the issuing institution(s) to WES.
Pay for all costs associated with the WES assessment.
Ensure WES sends your completed assessment directly to the university no later than December 8.

Translation of international documents

If your documents do not include an official English translation, you must also submit an official translation to WES. The translator must be accredited by a professional association of translators in Canada. To obtain the name of an accredited translator, please visit the Association of Translators and Interpreters of Ontario website. 
| | |
| --- | --- |
| Last year's cut-off | 70 per cent |
| Expected cut-off | Mid-70s |
The application service through Ontario Universities' Application Centre (OUAC) opens mid-September each year for Professional Program Applications to the Teacher Education Application Service (TEAS) and closes in early December of each year.
Please see our TEAS applicant page for important dates and application process.
Career opportunities
Graduates are prepared to teach provincially, nationally and internationally. The emphasis on technology-enhanced teaching and learning also provides some graduates with career opportunities in college-level teaching or in training and professional development in corporate settings.
Experiential learning
All Bachelor of Education students take part in several field experience placements, resulting in a minimum 80 days in classrooms working with teachers and students. Under the supervision of an experienced practising teacher, you will gradually acquire responsibility for teaching classes.
Did you know?
Sample courses

For program requirements, including required number of credits for completion, program maps and course descriptions, please see

the academic calendar and course catalogue of

Loading...

.

Courses are subject to change without notice.