Technology Management (Bachelor of Commerce)
Overview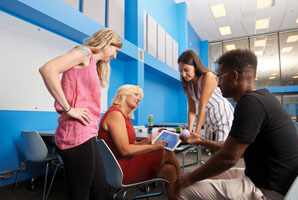 Learn the ins and outs of the worlds of both business and IT, ensuring you'll be a major asset to employers as you pursue your Bachelor of Commerce.
If you're interested in applying to the Technology Management major without co-op, apply via the Ontario Universities' Application Centre (OUAC) using OUAC code DBT. 
If you're interested in applying to the Technology Management (Co-op) major, apply via OUAC code DCT. 
A Technology Management major creates well-rounded individuals who can understand the worlds of both business and information technology (IT).
This major focuses on the managerial aspects of business information technology, and gain hands-on experience with state-of-the-art enterprise software and analytics packages used in business and government today. Understanding of information technology, business solutions and technology strategy is complemented with digital literacy, business communication, systems analysis and design thinking skills. Graduates will be able to communicate across traditional boundaries, taking a holistic view of how IT and business work together to make organizations and individuals more successful, aware and secure.
Admissions
Admissions
Current Ontario secondary school students must complete the Ontario Secondary School Diploma (OSSD) with six 4U or 4M credits including English (ENG4U) with a minimum average of 60 per cent and one of Advanced Functions (MHF4U), Calculus and Vectors (MCV4U) or Mathematics of Data Management (MDM4U) with a minimum average of 60 per cent. 
Note: Admission is competitive. The specific average or standing required for admission varies from year to year. Students are selected by taking into consideration a wide range of criteria including school marks, distribution of subjects taken, and performance in subjects relevant to the academic program. Possession of the minimum requirements does not guarantee acceptance. Preference will be given to applicants with the best qualifications.
| | |
| --- | --- |
| Last year's cut-off | 70 per cent |
| Expected cut-off | low 70s |
Career opportunities
Enterprise Systems Specialist
Business Technology Consultant
Business Analytics Manager
Business Intelligence Officer
Information and Communication Technology Manager
Information Systems Analysts
Digital Transformation Lead
Experiential learning
You will gain hands-on experience as you learn how to apply theory to the processes of business decision-making and problem-solving. Our Technology Management major includes the opportunity to participate in internship work placements (locally or aboard) or Capstone study projects in which you work within a team to provide consulting services to one of our industry partners.
Our emphasis on experiential learning also includes the integration of case study analysis, computer simulations, field-based projects, and problem-solving activities into our courses. In addition, students can enrich their opportunities for experiential learning by participating in student competition and various student societies.
Learn more on the faculty website.
Did you know?
Sample courses

We have partnered with SAP Next-Gen to provide the SAP Student Recognition Award, which acknowledges those who have spent notable time using the SAP product suite during their degree program. This recognition award is issued by the Faculty of Business and Information Technology. To be eligible for the award, students must take three courses with significant hands-on SAP content. Currently available courses include: BUSI 2603U Introduction to Operations Management, BUSI 2500U Business Simulation and Analytics, and BUSI 3040U Information Systems.        

Students who obtain the award can proudly display it on their resume and show that they have job-ready SAP skills. The Student Recognition Award also grants access to the TS410 course (formerly TERP 10) which provides the professional designation SAP Certified Associate upon passing the examination from SAP.

For program requirements, including required number of credits for completion, program maps and course descriptions, please see

the academic calendar and course catalogue of

Loading...

.

Courses are subject to change without notice.