Forensic Psychology - Advanced Entry
Overview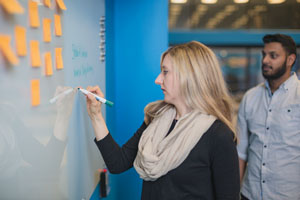 Build on your Ontario diploma knowlege of psychology and the justice system, in this college-to-university advanced entry program.
You will study the core areas of psychology: social, cognitive, developmental and abnormal, as well as research methods and data analysis. You will explore a variety of forensic psychology courses that apply psychology to crime, policing, the courts, corrections and other aspects of the justice system. You will also have opportunities to incorporate aspects of criminology, legal studies, health and neuroscience into your degree, with the objective of developing unique knowledge and skillsets.
Admissions
Admissions
An Ontario college or Ontario college advanced diploma in one of the programs listed below with a minimum B-/70 per cent average:
Behavioural Sciences
Behavioural Science Technician (Durham College and George Brown College)
Child and Youth Care
Community and Justice Services
Mental Health and Addiction Worker (Fleming College)
Police Foundations
Protection, Security and Investigation
Social Service Worker
Social Service Worker - Immigrants and Refugees (Seneca College)
Note: Admission is competitive. The specific average or standing required for admission varies from year to year. Students are selected by taking into consideration a wide range of criteria including school marks, distribution of subjects taken, and performance in subjects relevant to the academic program. Possession of the minimum requirements does not guarantee acceptance. Preference will be given to applicants with the best qualifications. 
| | |
| --- | --- |
| Last year's cut-off | 70 per cent |
| Expected cut-off | Mid 70s |
In recognition of your diploma, you will receive 20 courses toward the 40-course Bachelor of Arts (Honours) degree.
Career opportunities
You will be equipped with the skills and knowledge to succeed in careers including:
Child protection worker
Corrections officer
Law enforcement officer
Mental-health technician
Probation manager
Psychologist (after further study)
Residential youth counsellor
Experiential learning
A limited number of fourth-year students have an opportunity to participate in a learning experience with a community organization. The practicum is an experiential learning tool that provides students with opportunities to acquire workplace skills and knowledge, confront the relationship between theory and practice, and cultivate a sense of personal and professional development. The practicum course consists of 100 hours of fieldwork, several in-class seminars and a set of academic assignments.
Sample courses

Abnormal Psychology
Brain and Behaviour
Confessions and Interrogations
Developmental Psychology
Essentials of Biology
Eyewitness Psychology
Forensic Science
Investigative Psychology
Psychology of Deviance
Psychopathic Behaviour
Research Methods
Sexual Offenders
Social Psychology
Treatment in Forensic Settings

A full program map is available in the Undergraduate Academic Calendar. Courses are subject to change without notice.