UNENE Graduate Diploma in Nuclear Engineering
Overview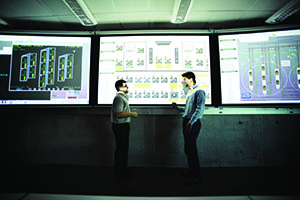 The UNENE Graduate Diploma in Nuclear Engineering is offered jointly between Ontario Tech University and McMaster University.
The University Network of Excellence in Nuclear Engineering (UNENE) Graduate Diploma in Nuclear Engineering is offered jointly between Ontario Tech University and McMaster University. The graduate diploma will allow students to broaden their knowledge and enhance their core skills without the commitment of a full master's degree. Only four courses are required for the graduate diploma, as opposed to the 10 required in the UNENE Master of Engineering (MEng) program. Courses will be offered using the same model as the MEng -- four alternate weekends with the option for distance education.
Admissions
Admissions
UNENE requires an honours or four-year degree in engineering, science or mathematics, and a B average (GPA: 3.0 on a 4.3 scale or 73 to 76 per cent) or better. UNENE also considers any relevant work or research history. Meeting the minimum requirements does not guarantee acceptance.
Please note: This program is available for domestic students only.
Required supporting documents:
Please see the checklist of required documents for a list of supporting documentation that must be submitted with your application.
Required test scores for English language proficiency:
See English language proficiency for the minimum required test scores for this program.
Please see 
application deadlines
 for specific dates. Note that the application deadlines listed are for both the online application and all supporting documentation.
Applications for admission to all graduate studies programs are submitted online. There are five steps you must go through to complete the application process. See 
application process and requirements
 for step-by-step instructions.
Additional information
For program requirements, including required number of credits for completion, program maps and course descriptions, please see
the academic calendar and course catalogue of
Loading...
.
Courses are subject to change without notice.
Applicants to professional or course-based programs are not normally considered for internal funding sources such as entrance scholarships, minimum funding packages, teaching assistantships, research assistantships or graduate research assistantships.
While external scholarships and awards for graduate students who fall under the above criteria are often limited, we encourage you to explore some of the external scholarship databases available for possible funding opportunities.
Tuition fees for graduate programs are charged on a flat-fee or fee-per-credit basis and vary by program and student status.
For current, specific fees and details on flat-fee versus fee-per-credit programs, please see tuition and fees.