Medical Laboratory Science - Northern Access Initiative
Overview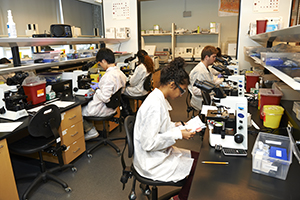 Prepare yourself to be eligible to write the Canadian Society for Medical Laboratory Science (CSMLS) national certification examination.
The Medical Laboratory Science – Northern Access Initiative is reserved for applicants from northern Ontario. If this does not apply to you, please apply to the Medical Laboratory Science program using the program code DHL.
Modern health care has become increasingly dependent on complex laboratory tests—the results of which aid in the diagnosis, monitoring and treatment of disease. You will gain fundamental knowledge and skills in biological, physical and health sciences. The medical laboratory science-specific courses cover five laboratory disciplines: biochemistry, hematology, histotechnology, microbiology and transfusion science. 
This program is accredited by Accreditation Canada. Upon successful completion, you are eligible to write the Canadian Society for Medical Laboratory Science national certification examination and subsequently work in all Canadian provinces and territories.
Admissions
Admissions
Current Ontario secondary students must complete the Ontario Secondary School Diploma (OSSD) with six 4U or 4M credits, including English (ENG4U) with a minimum grade of 60 per cent, Biology (SBI4U),  Chemistry (SCH4U) and one of Advanced Functions (MHF4U) or Calculus and Vectors (MCV4U). In addition, a combined minimum 70 per cent average in prerequisite math and science courses is required. Due to the structure of the program, students who are eligible for transfer credit will still take four years to complete the program.                                                                                              
Note: Admission is competitive. The specific average or standing required for admission varies from year to year. Students are selected by taking into consideration a wide range of criteria including school marks, distribution of subjects taken, and performance in subjects relevant to the academic program. Possession of the minimum requirements does not guarantee acceptance. Preference will be given to applicants with the best qualifications.
| | |
| --- | --- |
| Last year's cut-off | N/A |
| Expected cut-off | High-70s |
Career opportunities
Registered Medical Laboratory Technologist 
Animal Health Technologist
Biological Technologist 
Food Science Technologist 
Health Information Management Technician
Technical Sales Specialist
Experiential learning
Starting in first year, students will have the opportunity to apply their knowledge and get hands-on experience in the simulation laboratories. As theoretical knowledge expands, so does experiential knowledge. In fourth year, students will be placed in a diagnostic medical laboratory for the final two practicum semesters where they will work under the supervision of a medical laboratory technologist and perform increasingly complex procedures on human specimens. Clinical placements give students hands-on practice, experience in different work environments and the opportunity to network with potential employers.
Did you know?
Sample courses

For program requirements, including required number of credits for completion, program maps and course descriptions, please see

the academic calendar and course catalogue of

Loading...

.

Courses are subject to change without notice.