Financial Data Analytics (Master's program)
Overview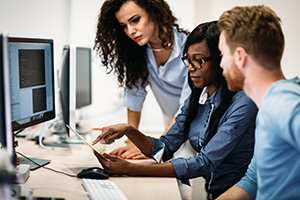 The Master of Financial Data Analytics (MFDA) aims to train highly qualified finance professionals with the computational skills essential for success in today's ever-changing financial markets. 
Aimed at working professionals, this unique graduate program trains students in both finance and related data analytic skills and is suitable for business graduates with or without an advanced mathematics background. Applicants to the MFDA can be from a variety of educational backgrounds, from business, economics and finance, to mathematics, computer science, information technology and other quantitative areas. 
There is an immense amount of data created every day, and the financial industry has benefited the most from data analytics. Banking and financial markets use information and analytics in creating a competitive advantage for their organizations. The need for professionals who can combine their finance and market expertise while supporting these emerging technologies is growing. Graduates of the MFDA will be trained in how to analyze financial data with data analytic skills including AI programming and applications.
The MFDA program includes eight courses and a choice of internship or project. The courses cover finance and data analytics skills applied to finance. It is a two-year full-time in-person program but can be accelerated to one year.
The MFDA is a GARP Academic Partner; the program curriculum equips students with the required knowledge to approach the Part I Exam of the Financial Risk Manager (FRM) professional certification. Recognized in every major global market, the FRM is the leading certification for Risk Managers
International students may be eligible for a post-graduation work permit.
Admissions
In addition to the general admission requirements for graduate studies, MFDA applicants must meet the following program-specific requirements:
Hold a bachelor's degree in one of the two streams.

Stream A is a quantitative stream and the applicants' background includes information technology, computer science, modelling and computer science, engineering, mathematics, statistics, physics, actuarial science, or other quantitative fields.
Stream B is a business stream and the applicants' background includes business, economics, and finance.
All applicants—except those with a graduate or undergraduate degree from a Canadian or American University—must complete the GMAT or GRE.
A statistics course is required. Linear algebra and calculus are highly recommended.
If applicable, a minimum score of 7 on the IELTS or 100 on the TOEFL. (Note that these English language proficiency scores are slightly higher than those required for some other graduate programs.) Visit the English language proficiency section of this calendar for additional details.
There may be an interview for applicants prior to admission.
Please see application deadlines for specific dates. Note that the application deadlines listed are for both the online application and all supporting documentation.
Applications for admission to all graduate studies programs are submitted online. There are five steps you must go through to complete the application process. See application process and requirements for step-by-step instructions.
---
Many of our graduate programs are extremely competitive; the number of qualified applicants normally exceeds the number of seats available for each intake. Satisfaction of minimum entry requirements does not ensure admission.
Additional information
Program courses:
Financial Management

Investment

Financial Econometrics

Financial Derivatives Securities

Financial Risk Management

Business Analytics

Programming and Data Processing

Artificial Intelligence Programming
Applicants to professional or course-based programs are not normally considered for internal funding sources such as entrance scholarships, minimum funding packages, teaching assistantships, research assistantships or graduate research assistantships.
While external scholarships and awards for graduate students who fall under the above criteria are often limited, we encourage you to explore some of the external scholarship databases available for possible funding opportunities.
Tuition fees for graduate programs are charged on a flat-fee or fee-per-credit basis and vary by program and student status.
For current, specific fees and details on flat-fee versus fee-per-credit programs, please see tuition and fees.