Psychology - GAS Transfer
Overview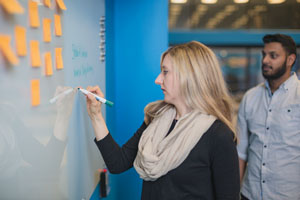 Enhance your Durham College GAS Certificate, and interest in psychology and the justice system, in this college-to-university transfer program.
An education in psychology will provide you with knowledge and skills relevant to a diverse array of career opportunities. You will gain a foundational education in psychological principles and develop critical thinking, reasoning, and communication skills. You will receive formalized training in research methods and statistics, and develop an appreciation for the ethical and judicial treatment of persons. These skills will give you a competitive advantage as you enter the workforce or pursue further education.
This program will be of particular relevance if you are interested in the social, personality, or developmental characteristics of human behaviour.
You may pursue the comprehensive program or a specialization in:
Developmental Psychological Science 
Affective Science and Mental Health 
Admissions
Admissions
Students who have successfully completed a General Arts and Sciences Certificate - Liberal Arts Transfer option may apply for direct admission into the second year of the General Psychology program. Students will need to complete BIOL 1841U – Essentials of Biology (unless they have two college biology courses) prior to enrolling in the required second year General Psychology course PSYC 2050U – Brain and Behaviour.
Eligible General Arts and Sciences Certificate applicants must have achieved a mark of no less than 70 per cent in each required course in the GASC — Liberal Arts Transfer courses, with an overall average of 77 per cent or higher. Admission remains competitive and so is not guaranteed.
Program map is the same as the BA in Psychology for years 2, 3 and 4, but students who do not have two college-level biology credits will need to take BIOL 1841U – Essentials of Biology in the first semester of year 2.
Note: Admission is competitive. The specific average or standing required for admission varies from year to year. Students are selected by taking into consideration a wide range of criteria including school marks, distribution of subjects taken, and performance in subjects relevant to the academic program. Possession of the minimum requirements does not guarantee acceptance. Preference will be given to applicants with the best qualifications. 
| | |
| --- | --- |
| Last year's cut-off | 77 per cent |
| Expected cut-off | High 70s |
In recognition of your diploma, you will receive 10 courses toward the 40-course Bachelor of Arts (Honours) degree.
Career opportunities
Advertising Researcher
Health Services Employee
Human Resources Employee
Laboratory Assistant
Market Researcher
Statistical Consultant
Experiential learning
Experiential learning opportunities will be fostered through volunteer, practicum, internship and directed lab research opportunities, each of which will give students hands-on experience in their field of interest.
A limited number of fourth-year students have the opportunity to acquire workplace skills through an immersive internship or practicum experience with a partner organization.
Did you know?
Sample courses

Essentials of Biology
Developmental Psychology
Social Psychology
Abnormal Psychology
Brain and Behaviour
Cognitive Psychology
Research Methods
Data Analysis

A full program map is available in the Undergraduate Academic Calendar. Courses are subject to change without notice.