Overview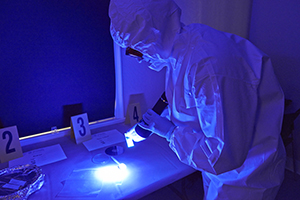 Join a program which is 1 of 2 Forensic Science programs fully accredited by the American Academy of Forensic Sciences (AAFS) recognizing that our curriculum, labs, faculty and research have met the standards by the accreditation commission.
You will benefit from both a strong general scientific foundation and forensic courses. Students gain real-world experiences and unique hands-on training at the Crime Scene House, Forensic Ecology Research Facility and Forensic Teaching Laboratory.
At the end of first year, you will choose to specialize in one of the following areas:
Forensic Biology

Forensic biology spans a multitude of applications of biological evidence, such as blood and other body fluids, hairs, botanical remains, microbes and insects, to criminal, civil and regulatory law investigations and prosecutions. You will learn how forensic biology plays a crucial role in the justice system through courses such as Population Genetics and Forensic Biology.

Forensic Chemistry

Forensic Chemistry encompasses numerous disciplines including paint analysis, arson and fire debris investigations, explosives analysis, fibre and textile testing as well as the subdiscipline of toxicology, the study of drugs and poisons.You will further your skills in analytical instrumentation, the analysis of fire accelerants and toxicology through courses such as Instrumental Analytical Chemistry and Fire Investigation.

Forensic Physics

The discipline of forensic physics describes the application of the scientific study of matter, motion and energy to forensic investigations of many types, including ballistics, accident reconstruction, metal strength and damage analysis, and optical and acoustic analyses. Courses such as Electricity and Magnetism, and Forensic Physics will help you understand forensic materials analysis as well as the mechanics of bloodstain patterns and vehicle collision investigations.
Cutting edge research
I enjoyed the Forensic Science program because it uses all the traditional science subjects—biology, chemistry and physics—in unique ways for a lot of application-based learning. You get to go to our Ontario Tech Crime Scene House and experience how to use science at simulated crime scenes; you learn techniques that are actually being used in the field. For me, the best part of my undergraduate degree was learning from actual forensic science professionals.

Robert Gattie

Bachelor of Science (Honours) in Forensic Science

Class of 2018
Admissions
Admissions
Current Ontario secondary school students must complete the Ontario Secondary School Diploma (OSSD) with six 4U or 4M credits including English (ENG4U), Advanced Functions (MHF4U), and two of Biology (SBI4U), Calculus and Vectors (MCV4U), Chemistry (SCH4U) or Physics (SPH4U). In addition, a combined minimum 70 per cent average in prerequisite math and science courses is required. It is recommended that all four of MCV4U, SBI4U, SCH4U and SPH4U be taken.
Note: Admission is competitive. The specific average or standing required for admission varies from year to year. Students are selected by taking into consideration a wide range of criteria including school marks, distribution of subjects taken, and performance in subjects relevant to the academic program. Possession of the minimum requirements does not guarantee acceptance. Preference will be given to applicants with the best qualifications.
| | |
| --- | --- |
| Last year's cut-off | 70 per cent |
| Expected cut-off | Low 70s |
Career opportunities
There are many opportunities for graduates holding an Honours undergraduate degree in Forensic Science, whether they choose to continue on to higher education or go directly into the workplace. Some options include:
Customs and immigration/document examination
Forensic scientist or technologist
Government or private research laboratory
Insurance and fraud investigation
Police services (after required training)
Scenes of Crime Officer (SOCO) (after required training)
Experiential learning
Students in their graduating year will complete either an independent Thesis Research project, Directed Studies project, or Mock Crime Scenee Practicum.
The Thesis Research Project provides students with the opportunity, under the supervision of a faculty member or a forensic professional, to integrate and synthesize knowledge gained throughout their program of study. Students will prepare a written and oral thesis defense that includes a literature review, methods, results and significance of the research.
The Directed Studies Project requires independent research of a current topic in a specialized area of forensic science, including, but not restricted to, biology, chemistry, anthropology and the application of science to law. Students select topics from current research literature and prepare a review and critical appraisal of underlying experimental principles.
The Mock Crime Scene Practicum will allow students to investigate a simulated major crime scene, synthesizing the knowledge they have gained throughout the forensic science program. They will participate in all aspects of a forensic science investigation, from crime scene to lab, culminating with expert witness testimony in a mock court setting.
Sample courses

Criminalistics
Crime Scene Science
Fire Investigation (Forensic Chemistry specialization)
Advanced Forensic Biology (Forensic Biology specialization)
Forensic Drug Chemistry and Toxicology
Forensic Physics Applications (Forensic Physics specialization)
Mock Crime Scene Practicum

A full program map is available in the Undergraduate Academic Calendar. Courses are subject to change without notice.