Educational Studies - Digital Technologies
Overview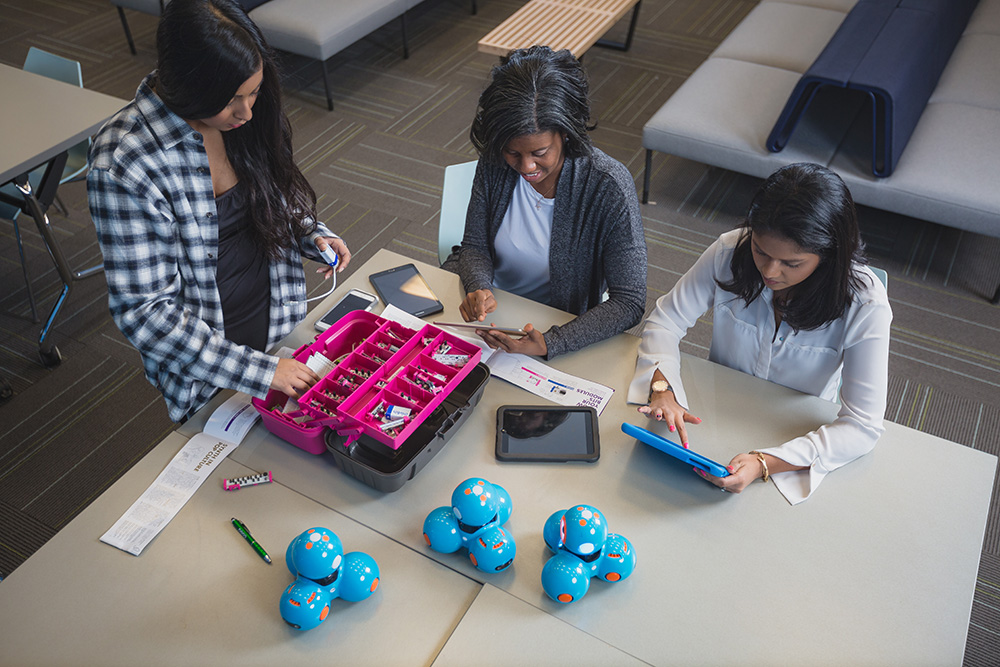 Our Bachelor of Arts (Honours) in Educational Studies with a specialization in Digital Technologies prepares leader-experts with the flexibility to apply innovations in digital technology and inquiry-based learning while working in a variety of educational settings. This specialization emphasizes real-world inquiry and problem-based learning, providing the best opportunities to develop job-ready skills in training and instruction using digital technology.
Our four-year Bachelor of Arts (Honours) in Educational Studies is an innovative hybrid program (online and in-person courses) designed to provide maximum flexibility and choice. You will develop critical knowledge and skills in educational studies, including foundations of learning, creating digital tools for education, assessment for learning and foundations of equity, diversity and inclusion. Online courses from the Faculty of Education are supplemented with in-person or online electives from other faculties to create a custom program that will enable you to achieve your academic goals. 
This specialization in Digital Technologies develops the skills and understanding that enable educators to apply meaningful and innovative technological solutions in both formal and informal learning environments. Learn more about the use of games and simulations for learning, strategies for teaching in digital contexts, developing critical digital literacies and trends, and issues in educational technologies.  
If you are interested in becoming a teacher after completing this degree, you should also apply to the Concurrent Education program (see Admissions below for details on the application process).
Specialization courses 
To specialize in Digital Technologies during the Educational Studies program, you must complete four of the following courses in addition to other program requirements: 
EDST 2120U – Culture and Digital Technologies

EDST 2160U – Online Learning: Theory and Research

EDST 3110U – Critical Digital Literacies

EDST 3140U – Digital Communication Technologies

EDST 4120U – Gaming and Simulations

EDST 4470U – Trends and Issues in Educational Technology
Outcomes
After completing the Bachelor of Arts (Honours) in Educational Studies with a specialization in Digital Technologies, you will be prepared to: 
Provide leading-edge training and education for institutions and industries moving to hybrid or fully-online frameworks to meet evolving challenges. 

Pursue a Bachelor of Education program to teach K-12. 

Pursue graduate school in our Master of Education program.
Admissions
Admissions
Current Ontario secondary school students must complete the Ontario Secondary School Diploma (OSSD) with six 4U or 4M credits including English (ENG4U).
Note: Admission is competitive. The specific average or standing required for admission varies from year to year. Students are selected by taking into consideration a wide range of criteria including school marks, distribution of subjects taken and performance in subjects relevant to the academic program. Possession of the minimum requirements does not guarantee acceptance. Preference will be given to applicants with the best qualifications.
| | |
| --- | --- |
| Last year's cut-off | 70 per cent |
| Expected cut-off | Low-70s |
Career opportunities
Adult Literacy Instructor
Child-care centres
College Educator
Digital Learning Specialist
Early childhood learning environment design
Human Resources Manager
Instructional Designer
Military Trainer
Nursery and preschool programs
Policy development;
Service Organization Educator
Workplace/Corporate Educator
Sample courses

Adult Literacy Instructor
College Educator
Human Resources Manager
Instructional Designer
Military Trainer
Policy Development
Service Organization Educator
Workplace/Corporate Educator

For full program requirements, including required number of credits for completion, program maps and course descriptions, please see the Undergraduate Academic Calendar and course selection for the Digital Technologies specialization. Courses are subject to change without notice.