Medical Laboratory Science - Bridge
Overview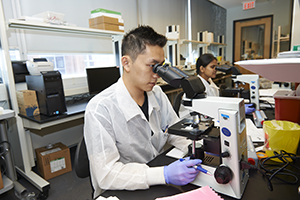 Medical laboratory technologists are in high demand due to the health-care system becoming increasingly dependent on sophisticated laboratory technologies to diagnose, monitor and treat disease.
Modern health care has become increasingly dependent on complex laboratory tests, the results of which aid in the diagnosis, monitoring and treatment of disease. You will gain fundamental knowledge and skills in biological, physical and health sciences. The medical laboratory science-specific courses cover five laboratory disciplines: biochemistry, hematology, histotechnology, microbiology and transfusion science.
This program is accredited by Accreditation Canada - EQual™. Upon successful completion, you are eligible to write the Canadian Society for Medical Laboratory Science national certification examination and subsequently work in all Canadian provinces and territories.
I recommend the Medical Laboratory Science program at Ontario Tech because you finish the program with a degree that allows for further educational opportunities, as well as a professional career qualification enabling you to enter the industry immediately. This program gives you multiple career opportunities, making it perfect for those who like a challenge.

Courtney Coughlan

Bachelor of Health Sciences (Honours) in Medical Laboratory Science

Class of 2012
Admissions
Admissions
An Ontario college advanced diploma in Biotechnology - Advanced* with a minimum B+ average. Successful applicants with be required to present a comprehensive Human Anatomy and Physiology course at the college or university level.
*Only graduates from Durham College and Fleming College will be considered for admission.
The following Anatomy and Physiology courses have been pre-approved: 
Durham College
ANAT 1500 Anatomy and Physiology 
or
BIO 1581 Anatomy and Physiology I
BIO 2582 Anatomy and Physiology II
or
BIO 1502 Anatomy and Physiology I
BIO 2502 Anatomy and Physiology II
Fleming College
NRSG 163 Anatomy and Physiology I
NRSG 167 Anatomy and Physiology II
Mohawk College
HSCI 10027 Anatomy and Physiology
Michener Institute
AP807 Gross Anatomy and Physiology
Trent University
BIOL 1050H Human Anatomy 
BIOL 1051H Human Physiology 
Ontario Tech University
HLSC 2202U Comprehensive Anatomy and Physiology
| | |
| --- | --- |
| Last year's cut-off | 80 per cent |
| Expected cut-off | Low-80s |
Once you have successfully completed the bridge semester, you will receive 
13 courses toward a 40-course BHSc degree
.
Career opportunities
Administrative and/or policy development
Biotechnology and Pharmaceutical Researcher
Commercial laboratories producing reagents, vaccines
Computer and information systems companies
Reagent, Instrument and Pharmaceutical Sales Representative
Registered Medical Laboratory Technologist (MLT)
Experiential learning
Students will have the opportunity to apply their knowledge and get hands-on experience in the simulation laboratories. As theoretical knowledge expands, so does experiential knowledge. In fourth year, students will be placed in a diagnostic medical laboratory for the final two practicum semesters where they will work under the supervision of a medical laboratory technologist and perform increasingly complex procedures on human specimens. Clinical placements give students hands-on practice, experience in different work environments and the opportunity to network with potential employers.
Although some exceptional circumstances may be considered, practicum sites are assigned on a random basis; therefore, students may be placed in any affiliated site within the province of Ontario. Students are responsible for any costs associated with relocation.
Did you know?
Sample courses

For program requirements, including required number of credits for completion, program maps and course descriptions, please see

the academic calendar and course catalogue of

Loading...

.

Courses are subject to change without notice.