Information Technology - Game Development and Interactive Media - Bridge*
Overview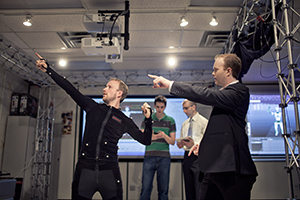 Game Development and Interactive Media is designed to provide you with a wide range of game design and programming expertise. Successful students develop their knowledge and skills in a diverse team environment and learn to work with programmers, artists and designers to create innovative products that push the medium to its limits.
Our program is designed to quickly advance your career by focusing on the knowledge and skills needed to build rewarding careers within an existing business or entrepreneurial opportunity in the interactive media and game development areas.
You will gain real-world experience through internship work placements (locally or abroad) or Capstone study projects where you work with a team to provide consulting services to one of our industry partners.
Our Gaming and Virtual Reality Laboratory is equipped with state-of-the-art workstations and software for development of high-quality animations, models, sound production, game engines and gameplay code. This lab also includes stereoscopic 3D virtual-reality displays and motion-capture systems. You will record sound for voiceovers and music with minimal echo or background noise in an audiometric room coupled with audio recording equipment.
*This program is not running for the 2024 spring/summer session.
Ontario Tech is a great place to develop knowledge on a variety of different topics across many different fields. This program covers the full spectrum of the game-development process, from conception to implementation, while also creatively integrating an indie studio feel with the Game Development Workshop. Having all of the hardware and software provided to you for all of your classes is also a great convenience.

Brad Kroese

Bachelor of IT (Honours) in Game Development and Interactive Media, class of 2014

Junior Online Programmer, Ubisoft
Admissions
Admissions
An Ontario College Diploma or Ontario College Advanced Diploma in one of the following programs with a minimum mid-70s average:
3D Animation, Art & Design (Humber College) 
Animation (Algonquinn College, Cambrian College, Durham College, Loyalist College or Seneca College) 
Animation - 3D (Centennial College)
Computer Programmer (Algonquinn College, Confederation College, Durham College, Georgian College, Humber College, Sault College, Seneca College or Sheridan College) 
Game Art and Design (Centennial College)
Game Development (Algonquinn College and Durham College)
Game Programming (Humber College) 
Information Technology - Majors: Computer Systems and Software Development (SAIT Polytechnic)
Multimedia 3D Animation (Humber College)
Software Engineering Technology - Interactive Gaming (Centennial College) 
Note: Admission is competitive. The specific average or standing required for admission varies from year to year. Students are selected by taking into consideration a wide range of criteria including school marks, distribution of subjects taken and performance in subjects relevant to the academic program. Possession of the minimum requirements does not guarantee acceptance. Preference will be given to applicants with the best qualifications.
| | |
| --- | --- |
| Last year's cut-off | 75 per cent |
| Expected cut-off | mid-70s |
Once you have successfully completed the bridge courses with a minimum C grade in each course, you will proceed into the four-year BIT program. 
 You will receive 15 courses toward your 40-course BIT degree.
Career opportunities
Application Developer
Game Developer
Game Programmer
Game Project Manager
Simulation Specialist (military and civilian domain)
Technical marketing and advertising in web and new media
Experiential learning
Ontario Tech students have many different opportunities to apply their knowledge and skills in real-world settings. With more than 300 industry and community partner organizations, students have a wide variety of experiential learning opportunities available to them.

Hands-on training is valuable; our programs offer you real-world business experience through internship work placements (locally or abroad) or capstone study projects in which you work as a team to provide consulting services to one of our industry partners.
Our leading-edge laboratories enable hands-on learning and are fully integrated with the university's technology-enriched learning environment. Work with today's latest technology and obtain skills valued by future employers.
Did you know?
Sample courses

For program requirements, including required number of credits for completion, program maps and course descriptions, please see

the academic calendar and course catalogue of

Loading...

.

Courses are subject to change without notice.