Communication and Digital Media Studies
| | |
| --- | --- |
| Degree | Bachelor of Arts (Honours) |
| Faculty | Faculty of Social Science and Humanities |
| Location | Downtown Oshawa campus location |
| Start dates | September |
| Length | Four years |
| Program load | Full-time |
| OUAC code | DDC |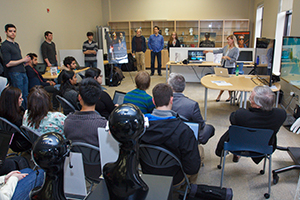 The Communication and Digital Media Studies program will help you develop 21st-century skills as you explore the economic, political and cultural drivers and impacts of communications and digital media in society.
General information
Is social media changing the world for better or worse? How do smartphones shape the way we think and behave? Can popular culture create and challenge stereotypes? Why are ads so effective at persuading people to buy?
In a time in which communications and digital media is ubiquitous, Communication and Digital Media Studies is a cutting-edge program designed to provide you with a strong foundation in scholarly, civic, and professional knowledge and skills pertaining to the roles, practices and impacts of communication and digital media in society.
You will learn about the fast-changing communication environment in which we live, explore the social and cultural impacts of many media and technology, and hone professionally relevant communication skills. You will develop specialized knowledge about how a range of media forms like TV shows, films, video games, wearables, smartphones, tablets, blogs, social networking platforms and search engines are changing the world. You will become a strong communicator who is able to present your ideas in a variety of forms such as research essays, case studies, journals, blogs, digital stories, mini-TED Talks, debates and videos.
---
Additional information
Communication and Digital Media Studies website
Program curriculum
Sample courses: 
Advertising and Society
Digital Media, Politics and Democracy
Entertainment Goes Global
History of Communication Technology
International Communication
Living Digitally
Pop Culture
Public Relations
Tweet, Friend and Follow Me: Understanding Social Media
Work in the Information Age
Writing and Publishing in the Digital Age
A full program map is available in the Undergraduate Academic Calendar. Courses are subject to change without notice.
A full list of course descriptions is also available on the Communication and Digital Media Studies website.
Experiential learning
A limited number of fourth-year students are granted an opportunity to participate in a learning experience with a community organization. The practicum course consists of 100 hours of fieldwork, several in-class seminars and a set of academic assignments. 
Career opportunities
There are thousands of communications career paths, including:
Communications specialist
Creative director
Digital media strategist
Freelance content creator
Journalist
Professional editor
Public relations officer
Social media co-ordinator