Allied Health Sciences - Bridge
Overview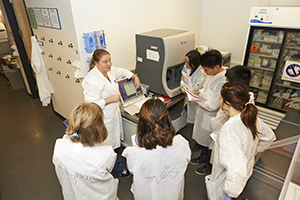 Expand on your previous Ontario diploma and experience in the health field to earn three marketable credentials instead of one.
Expand your previous education and experience, in a flexible and research-intensive environment. This program builds on the education foundation obtained from your diploma, and develops an in-depth knowledge of health sciences and the theory base required for further studies, or careers in a range of health disciplines. 
Additionally, you may choose to structure your elective courses to study in other program areas such as public health or adult education.
This program is available entirely online, making it easier to create academic schedules to accommodate full-time employment.
I chose Ontario Tech University because I was not only impressed with the programs, but I also enjoyed the environment as a whole. Throughout my degree, I still enjoyed utilizing the physical spaces on campus by walking on the track with my friends and taking yoga classes outside in the summer.

Bianca Cirone

Bachelor of Health Sciences, Class of 2021

Bachelor of Education, Ontario Tech University
Admissions
Admissions
A diploma from a public Canadian or recognized international college in one of the programs listed below with a minimum low-70s average:
Acupuncture (Georgian College only)
Addictions and Mental Health (graduate certificate) presented concurrently with a college diploma or university degree
Biomedical Engineering Technology
Biotechnology - Advanced
Cardiovascular Perfusion
Cardiovascular Technology
Cytotechnology
Dental Hygiene

Applicants from The Canadian Academy of Dental Health and Community Services (CADH) are eligible for admission consideration.

Developmental Services (Georgian College only)
Fitness and Health Promotion
Health Information Management
Hearing Instrument Specialist (George Brown College only)
Infection Control
Massage Therapy
Medical Imaging Technology
Medical Laboratory Technology
Medical Sonography
Midwifery
Nursing (RPN and RN)
Occupational Therapist Assistant/Physiotherapist Assistant (OTA/PTA)
Opticianry
Paramedic Diploma
Paramedicine

A Certificate of Paramedic presented with an Advanced Care Paramedic Certificate is eligible for admission.

Personal Support Worker
Pharmacy Technician
Prosthetics and Orthotics
Radiation Technology
Respiratory Therapy
Social Services Worker (Georgian College only)

Applicants with this diploma need to complete an additional course in Medical Terminology through "Ontario Learn" by October 15 of their first semester of the BAHSc enrolment in order to qualify.
 
This program is only available to graduates of public Ontario colleges (or equivalent).
Note: Admission is competitive. Regardless of educational background, all applicants to undergraduate programs must have specific prerequisite subject knowledge for their intended program of study. The specific average or standing required for admission will vary from year to year. Students are selected by taking into consideration a wide range of criteria, including school marks, distribution of subjects taken and performance in subjects relevant to the academic program. Preference will be given to applicants with the best qualifications.
| | |
| --- | --- |
| Last year's cut-off | 70 per cent |
| Expected cut-off | Low-70s |
Once you have completed the bridge courses with a minimum C+ grade in each course, you will proceed into the four-year BAHSc program. In recognition of your diploma, you will receive 19 courses toward your 40 course BAHSc degree.
Career opportunities
Government agencies
Hospitals
Insurance companies
Pharmaceutical companies
Private health and wellness clubs
Public health agencies
Universities and colleges
Sample courses

For program requirements, including required number of credits for completion, program maps and course descriptions, please see

the academic calendar and course catalogue of

Loading...

.

Courses are subject to change without notice.