Overview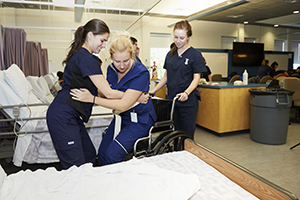 Take your RPN designation to the next level and become a Registered Nurse thorough the Nursing - Post RPN program. Prepare to write the NCLEX-RN.
If you have successfully completed your Registered Practical Nursing (RPN) diploma from an approved program, hold a current RPN registration and are interested in pursuing a Nursing degree, this program is for you.
You will have the opportunity to enrich your knowledge in the sciences, nursing and additional disciplines, while being introduced to the latest in learning technologies to enhance your success as a working professional.
Ontario Tech has been a key driver of me becoming the nurse I have always dreamed of! The university has supported me through hands-on experiences through clinical placements, compassionate professors, and amazing supports for my mental wellness and career development. They've helped me grow into who I was meant to be in the health-care field.

Safa Malek

Bachelor of Science (Honours) in Nursing, Class of 2021

Direct Care Worker, Stewart Homes
Admissions
Admissions
You must hold an approved Ontario college diploma (or equivalent) in Practical Nursing with a minimum A- average. In addition, you must hold a current certificate of competence with no restrictions from the College of Nurses of Ontario (CNO). 
Note: Admission is competitive. The specific average or standing required for admission varies from year to year. Students are selected by taking into consideration a wide range of criteria including school marks, distribution of subjects taken, and performance in subjects relevant to the academic program. Possession of the minimum requirements does not guarantee acceptance. Preference will be given to applicants with the best qualifications.
Upgrading
There are three ways to upgrade your admission average:
University level course(s)

The university-level courses can be completed through any recognized university.
Courses can be in any subject area. We suggest you avoid courses in the program map (see curriculum tab) so they can transfer as electives. 

Post-diploma certificates (approved by the Faculty of Health Sciences)
College courses
Our upgrading metric is as follows: 
Each university course

Each approved certificate*

Each college course***

90 to 100 per cent

Four points

Perinatal Obstetrics RN/RPN
Oncology Nursing RN/RPN
Perioperative Nursing (Graduate studies RN/RPN)
Mental health Nursing RN/RPN**

Four points

90 to 100 per cent

Two points

80 to 89.9 per cent

Three points

80 to 89.9 per cent

1.5 points

70 to 79.9 per cent

Two points

70 to 79.9 per cent

One point

60 to 69.9 per cent

One point

60 to 69.9 per cent

Zero points
Coursework must be after completion of the RPN diploma program.
Applicants may pursue a maximum of three upgrading courses/certificates. As such, it is possible to positively impact your average by a maximum of 12 per cent.
Transcripts with final grades for upgrading courses must be submitted by January 31 of the year of your intended start.
* These are some examples of approved certificates. Certificates other than these must be reviewed and approved by the Health Science Student Affairs Committee.
** Credible certificate programs at the RPN level must state Nursing (RN/RPN).
*** College courses must be outside of the approved certificate program.
Note: You are not upgrading your Practical Nursing (PN) diploma average, but your admission average. Once your diploma has been conferred, the average achieved cannot be changed through any forms of upgrading. Upgrading does not guarantee admission into the program.
| | |
| --- | --- |
| Last year's cut-off | Mid- to high 80s |
| Expected cut-off | Mid- to high 80s |
Once you have successfully completed the bridge courses with a minimum C grade in each course, you will proceed into the BScN program. In recognition of your diploma, you will receive 11 courses toward your 40-course BScN degree. 
Career opportunities
Acute care and high-acuity settings
Community and public health nursing 
Health administration and management 
Health and clinical data analysis 
Health policy and promotion
Specialty practice areas, such as neonatal intensive care and labour and delivery 
Experiential learning
The university has approximately 50 partner sites for clinical placements. They range from hospitals (such as maternity/obstetrics, medical surgery, psychiatry, oncology) to public health and community health centres.
You will learn how to assist and enhance patients' health and help people cope with the demands of illness, including changes in their families, community and society.
Did you know?
Sample courses

Anatomy and Physiology
Development of Self as Nurse
Health and Healing, Theory and Practice
Health Assessment
Interprofessional Health Care Teams
Microbiology for Health Sciences
Nursing Leadership and Innovation
Pathophysiology
Pharmacology for Nurses 

The full program map is available on the Undergraduate Academic Calendar. Courses are subject to change without notice.

For program requirements, including required number of credits for completion, program maps and course descriptions, please see

the academic calendar and course catalogue of

Loading...

.

Courses are subject to change without notice.