Nuclear Engineering (Master's program)
Overview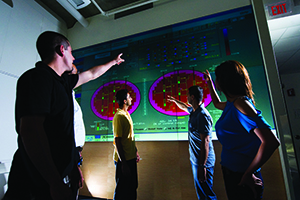 The Nuclear Engineering graduate programs encompass the nuclear power industry, from fuel manufacture to radioactive waste disposal, and the many and varied applications of radiation in industrial and medical disciplines.
The Nuclear Engineering graduate programs encompass the nuclear power industry, from fuel manufacture to radioactive waste disposal, and the many and varied applications of radiation in industrial and medical disciplines with a strong emphasis on health physics. Typical workplace activities include fundamental and applied research, design and development of new equipment, systems and procedures, maintenance and modifications, commissioning and decommissioning of equipment and complete facilities, operation, analysis and regulatory affairs.
Graduates of a master's level degree program in Nuclear Engineering must be competent in a wide range of disciplines that impinge on the safe and reliable operation of the many and varied systems that comprise radiological equipment, nuclear power plants and related facilities. They must understand the complex interrelationships between humans; non-human biota; and the physical, chemical, economic and social components of the environment. The program provides the depth and breadth of knowledge necessary for practicing professionals in nuclear engineering. Under the guidance of a research supervisor and a multi-disciplinary team of scientific and engineering faculty, each student has the opportunity to engage in an in-depth study of particular problems that emphasize theory and/or experimentation.
The objective of the Master of Applied Science (MASc) program is to prepare students for a career as engineers in fields that require specialized knowledge and skills. It is expected that graduates of the program will be able to work as engineers in industry, government or continue their education by pursuing a doctoral degree. The objective of the Master of Engineering (MEng) program is to provide the opportunity for engineers in industry to upgrade and expand their skills, including developing research skills. Graduates of the MEng program will be able to use what they have learned in a variety of applications in industry, government and academia.
Fields
Nuclear Power
Radiological and Health Physics
Admissions
Admissions
Hold a four-year honours undergraduate science or engineering degree from a Canadian university, or its equivalent from a recognized institution.
Minimum overall academic standing of a B (GPA: 3.0 on a 4.3 scale or 73 to 76 per cent), with a minimum B average in the last two full-time years (four semesters) of undergraduate work or equivalent. A B+ is preferred for Master of Applied Science (MASc) applicants.
Required supporting documents:
Please see the checklist of required documents for a list of supporting documentation that must be submitted with your application.
Important note: The Faculty of Energy Systems and Nuclear Science does not accept potential supervisors as referees for graduate studies applications. Please visit the letters of recommendation page for further details.
Required test scores for English language proficiency:
See English language proficiency for the minimum required test scores for this program.
Please see application deadlines for specific dates. Note that the application deadlines listed are for both the online application and all supporting documentation.
Applications for admission to all graduate studies programs are submitted online. There are five steps you must go through to complete the application process. See application process and requirements for step-by-step instructions.
---
Many of our graduate programs are extremely competitive; the number of qualified applicants normally exceeds the number of seats available for each intake. Satisfaction of minimum entry requirements does not ensure admission.
Research areas
Energy and material flows for sustainable cities
Energy systems analysis
Health physics, threat detection and security
Instrumentation and control, safety systems
Microgrids and energy management
Nuclear and energy data analytics, modeling and simulations
Nuclear fuel cycle, materials, waste and plant chemistry
Nuclear power systems
Nuclear reactor instrumentation, control and simulation
Nuclear reactor materials and corrosion
Nuclear reactor physics
Nuclear reactor safety
Nucelar reactor systems
Nuclear reactor thermal hydraulics and heat transfer
PRA/PSA, risk management, nuclear security
Radiation protection and measurement
Radioactive waste management
Learn more about the research areas within this program and find research experts by visiting the faculty's website and the university's Expert Centre.
Additional information
Internal awards and funding
Applicants to research-based graduate programs who are studying full-time are automatically considered for some types of funding at the time of admission.
Types of funding that do not require an application:
Entrance scholarships
Minimum funding packages
Teaching assistantships, research assistantships and graduate research assistantships
For more details on the above funding opportunities, see graduate student awards and funding.
Please note: Part-time students are not eligible for the above funding opportunities.
External awards and funding
Graduate program applicants are encouraged to apply for external awards to help finance their education. The application process differs for each competition, so review the information carefully to determine where and when you must apply. Please note: The majority of these awards are for domestic or permanent residents only.
Tuition fees for graduate programs are charged on a flat-fee or fee-per-credit basis and vary by program and student status.
For current, specific fees and details on flat-fee versus fee-per-credit programs, please see tuition and fees.