Electrical and Computer Engineering (Doctoral program)
Overview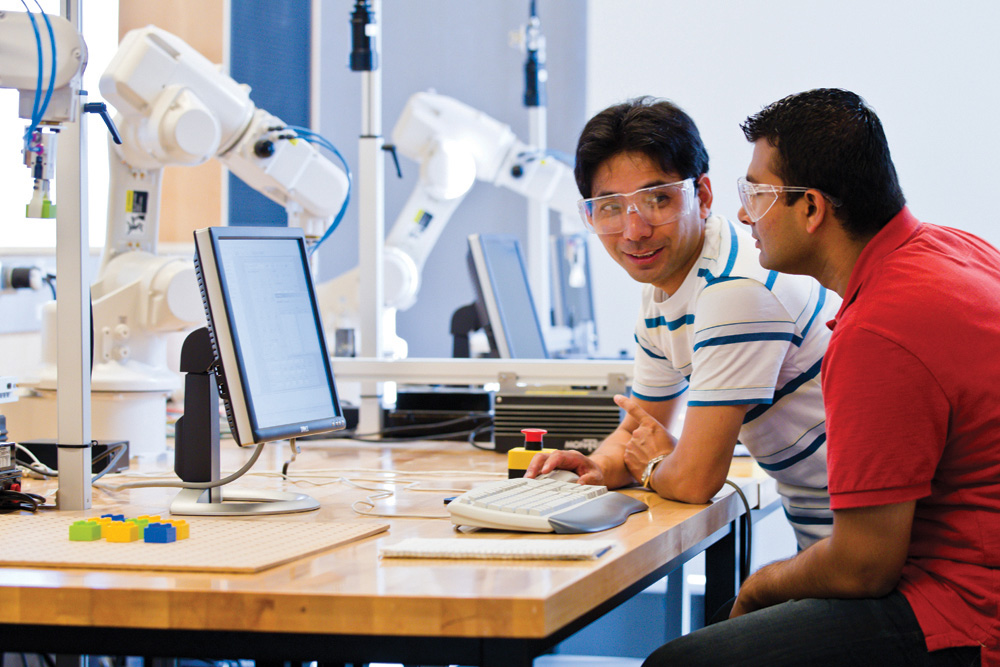 The doctoral program in Electrical and Computer Engineering aims to furnish students with the highest possible level of knowledge and scholarship in their areas of expertise.
The objectives of the PhD program in Electrical and Computer Engineering are to furnish the students with the highest possible level of knowledge and scholarship in their areas of expertise. This will be achieved through advancing independent initiatives, critical thinking, methodological analysis, creative problem solving and practical design synthesis. This will in turn prepare graduates for a career in industry, government research labs or academia. During their careers as academics, they should then be able to train Canada's next-generation of research scientists and also be actively involved in independent as well as collaborative research. 
PhD students will obtain their degree through a combination of advanced course work, independent research, research seminars, mandatory professional workshops, conference presentations, refereed research publications and a novel research dissertation.
Fields
Communications and Signal Processing
Control Systems
Power Systems and Power Electronics
Software Systems
Admissions
Admissions
Completion of a Master of Applied Science (MASc) level degree in engineering from a Canadian university, or its equivalent from a recognized institution.
A minimum B+ average (GPA: 3.3 on a 4.3 scale or 77 to 79 per cent).
Required supporting documents:
Please see the checklist of required documents for a list of supporting documentation that must be submitted with your application.
Required test scores for English language proficiency:
See English language proficiency for the minimum required test scores for this program.
Please see application deadlines for specific dates. Note that the application deadlines listed are for both the online application and all supporting documentation.
Applications for admission to all graduate studies programs are submitted online. There are five steps you must go through to complete the application process. See application process and requirements for step-by-step instructions.
---
Many of our graduate programs are extremely competitive; the number of qualified applicants normally exceeds the number of seats available for each intake. Satisfaction of minimum entry requirements does not ensure admission.
Research areas
Automatic/intelligent sensing and control
Data mining and knowledge discovery
Electric energy storage and electric transportation
Embedded and real-time systems
Haptics and virtual reality
Machine intelligence and large scale optimization
Mobile, pervasive and service computing
Network infrastructure protection, security and privacy
Networked and distributed control systems
Nonlinear and optimal control and path planning
Power electronics and motor drives
Renewable energy systems and energy harvesting
RF and microwave engineering
Satellite communications
Smart grid and power system protection
Software engineering and systems modeling
Statistical signal processing
Wireless and mobile communications
Learn more about the research areas within this program and find research experts by visiting the faculty's website and the university's Expert Centre.
Additional Information
ENGR 5510G – Foundations of Software Engineering
ENGR 5520G – Software Development Methods and Tools
ENGR 5590G – Software Engineering Studio
ENGR 5550G - Software Testing and Quality Assurance
ENGR 5560G - Software Security and Dependability
ENGR 5740G - User Interface Design
ENGR 5785G - Real-Time Data Analytics for Internet of Things
Please note that courses are subject to change without notice.
For program requirements, including required number of credits for completion, program maps and course descriptions, please see
the academic calendar and course catalogue of
Loading...
.
Courses are subject to change without notice.
Internal awards and funding
Applicants to research-based graduate programs who are studying full-time are automatically considered for some types of funding at the time of admission.
Types of funding that do not require an application:
Entrance scholarships
Minimum funding packages
Teaching assistantships, research assistantships and graduate research assistantships
For more details on the above funding opportunities, see graduate student awards and funding.
Please note: Part-time students are not eligible for the above funding opportunities.
External awards and funding
Graduate program applicants are encouraged to apply for external awards to help finance their education. The application process differs for each competition, so review the information carefully to determine where and when you must apply. Please note: The majority of these awards are for domestic or permanent residents only.
Tuition fees for graduate programs are charged on a flat-fee or fee-per-credit basis and vary by program and student status.
For current, specific fees and details on flat-fee versus fee-per-credit programs, please see tuition and fees.