Applied Bioscience (Master's program)
Overview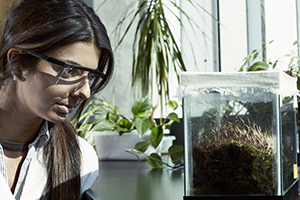 Applied Bioscience is a unique collaborative program offered by an interdisciplinary network of chemists, biologists and health scientists.
The primary objective of the Master of Science (MSc) program in Applied Bioscience is to train students to become high-quality researchers at the interface between chemistry and biology. The Faculty of Science, with no traditional departments, exposes students to interdisciplinary research, allowing them to gain experience working successfully within collaborative networks. The graduate programs equip students with a wide array of both practical and conceptual scientific skills that prepare them for leadership roles in the life sciences. These goals are achieved through independent research and rigorous course work. The programs bring together students and faculty from a variety of scientific backgrounds, which further enriches the student learning experience. In addition, in keeping with the university's strategic plan, research is aimed at creating innovations that will improve the lives of Canadians.
Graduates from these programs are expected to have a breadth of knowledge in the life sciences, a depth of knowledge in their chosen field, and the scientific and technical skills that are essential for a career in research. It is also expected that graduates will continue to make significant contributions to the advancement of knowledge in their field and become lifelong scholars with an appreciation of the impact of science on society.
Fields
The program capitalizes on the faculty's current research expertise which is reflected in four fields. These fields are interdisciplinary and multidisciplinary in nature and require students to rely on both chemistry and biology research methods in order to answer specific research questions.
Admissions
Admissions
Hold a four-year honours undergraduate degree in biology, chemistry or related area, or its equivalent from a recognized institution.
Minimum overall academic standing of a B (GPA: 3.0 on a 4.3 scale or 73 to 76 per cent), with a minimum B average in the last two full-time years (four semesters) of undergraduate work or equivalent.

To assist with the assessment of the application, applicants may be asked to provide course numbers, titles and brief descriptions of course content; textbooks used and/or chapters covered; and grades received in relevant areas of study.
Required supporting documents:
Please see the checklist of required documents for a list of supporting documentation that must be submitted with your application.
Additional requirements:
Admission depends on the availability of a research supervisor. It is recommended that applicants contact a potential supervisor before formally applying. 
In their statement of academic intent, applicants should include the type(s) of course(s) they feel they are suitable to teach as teaching assistants.
Required test scores for English language proficiency:
See English language proficiency for the minimum required test scores for this program.
Please see application deadlines for specific dates. Note that the application deadlines listed are for both the online application and all supporting documentation.
Applications for admission to all graduate studies programs are submitted online. There are five steps you must go through to complete the application process. See application process and requirements for step-by-step instructions.
---
Many of our graduate programs are extremely competitive; the number of qualified applicants normally exceeds the number of seats available for each intake. Satisfaction of minimum entry requirements does not ensure admission.
Research areas
Biochemistry
Cell biology
Chemical biology
Ecology
Environmental toxicology
Forensic science
Genomics
Immunology
Kinesiology
Microbiology
Molecular biology
Organic chemistry
Pharmacology
Pharmaceutical chemistry
Physiology
Learn more about the research areas within this program and find research experts by visiting the faculty's website and the university's Expert Centre.
Additional information
For program requirements, including required number of credits for completion, program maps and course descriptions, please see
the academic calendar and course catalogue of
Loading...
.
Courses are subject to change without notice.
Internal awards and funding
Applicants to research-based graduate programs who are studying full-time are automatically considered for some types of funding at the time of admission.
Types of funding that do not require an application:
Entrance scholarships
Minimum funding packages
Teaching assistantships, research assistantships and graduate research assistantships
For more details on the above funding opportunities, see graduate student awards and funding.
Please note: Part-time students are not eligible for the above funding opportunities.
External awards and funding
Graduate program applicants are encouraged to apply for external awards to help finance their education. The application process differs for each competition, so review the information carefully to determine where and when you must apply. Please note: The majority of these awards are for domestic or permanent residents only.
Tuition fees for graduate programs are charged on a flat-fee or fee-per-credit basis and vary by program and student status.
For current, specific fees and details on flat-fee versus fee-per-credit programs, please see tuition and fees.